2020/2021
Due to COVID-19, most of the following projects have been postponed until 2021-2022
1 | ARTS IN PUBLIC SPACES
---
Monumental Constructions by Olivier Grossetête
Halcyon – By The People Festival, Washington, DC
By the People Festival has invited the French artist, Olivier Grossetête, to develop and construct a monumental, architectural structure out of cardboard and tape on the National Mall. In partnership with the Trust for the National Mall, the participatory project, which doesn't require any cranes or other machinery, will bring together volunteers, schools and organizations to erect the structure. On the final day, the installation will be communally de-constructed and the site will return to its natural form, a testament to what is possible when we come together as a community.
bythepeople.org
---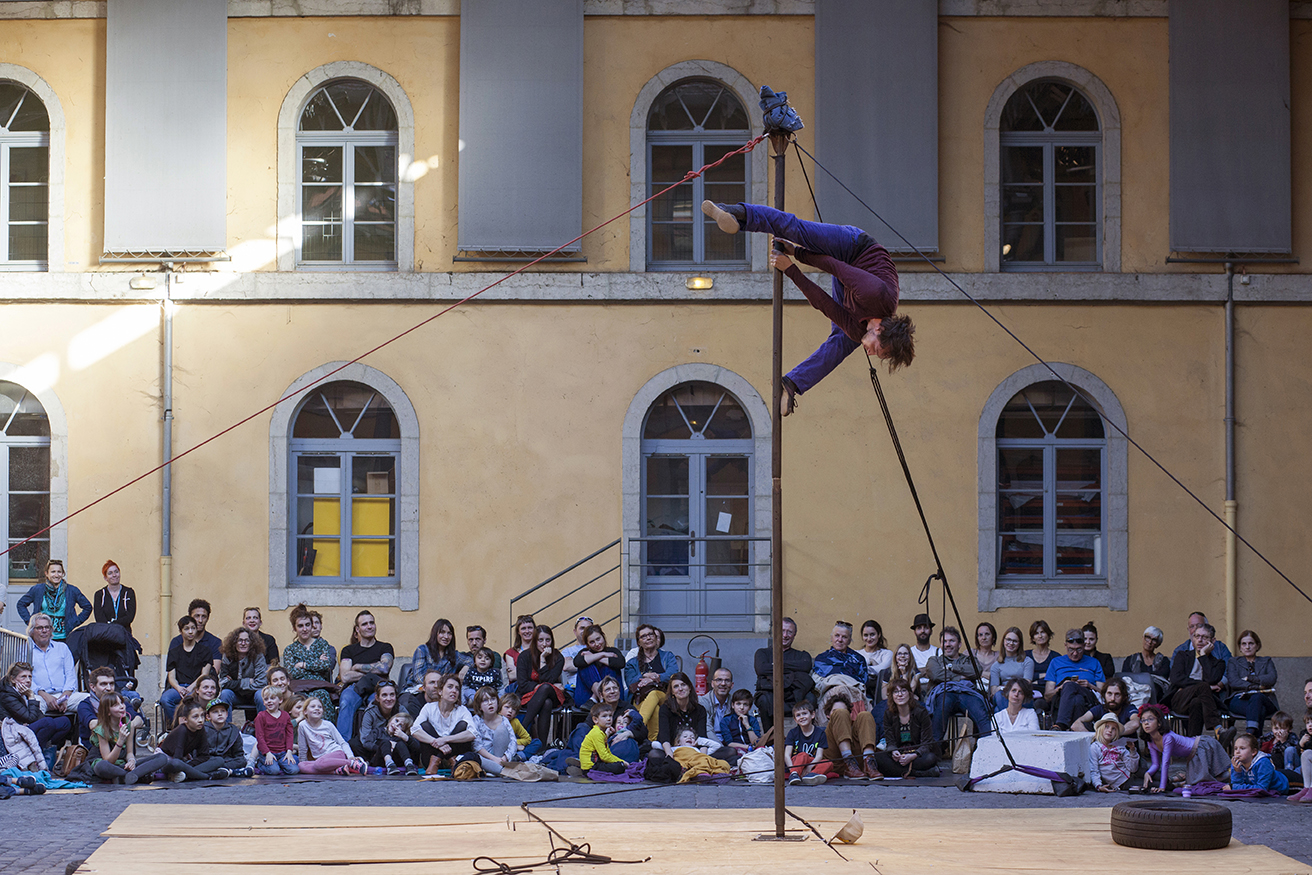 Instable
by Compagnie Les Hommes Penchés – Christophe Huysman
Pittsburgh Trust for Cultural Resources – The Dollar Bank Rivers Arts Festival
The Dollar Bank Three Rivers Arts Festival, presented by the Pittsburgh Cultural Trust, will show the solo piece Instable, conceived by the acrobat Nicolas Fraiseau and directed by Christophe Huysman.
A man hangs onto an almost invisible iron wire as it becomes unstable. To make up for this instability, the acrobat becomes an anchor point, working hard to find inner stability. He derives his power from fragility and the limits of the human condition, ultimately telling a story and reflecting not on instability, but on action.
trustarts.org
---
Instable
by Compagnie Les Hommes Penchés – Christophe Huysman
C'est pas là, C'est par là
by Compagnie Galmae – Juhyung Lee
Performance Spaces for the 21st Century, Chatham, NY
Both performances, Instable and C'est Pas Là, C'est Par Là, combine the avant-garde concepts of innovative space usage and audience participation, which has its roots in street theater, with the goal of pure enjoyment.
Instable by Les Hommes Penchés will take place in a location on PS21 property that will bring the audience into a delightful exploration of space, balance and challenges.
C'est Pas Là, C'est Par là by Compagnie Galmae is an installation and participatory performance that serves as a collective meditation on community and individuality. It will be part of the program PS21/Chatham Artways: Building Pathways for Enlivened Community and Culture.
Created by a Korean artist Galmae (Juhyung Lee), C'est pas là, c'est par là is a temporary public installation that explores the nature of crowd mentality and movement. It also brings people together through a meditative, unifying experience. ps21chatham.org
---
C'est Pas Là, C'est Par Là
by Compagnie Galmae – Juhyung Lee
Artpark &Company, Lewiston, NY
After PS21, Chatham, C'est Pas Là, C'est Par Là by Compagnie Galmae – Juhyung Lee will be presented on one of Artpark's unique "parking lots" with views of Niagara Gorge, Canada, highlighting the confluence of art, nature and culture and, ultimately, reaffirming Artpark's mission.
artpark.net
---
HOME
by Begat Theatre and Hand2Mouth, Portland, OR
Hand2Mouth(H2M), Portland's longest running theater ensemble, will present HOME, a new collaboration with the French street theater company Begat Theater, in partnership with the Alliance francaise of Portland and the organization Outside In, a social services provider for youth experiencing homelessness.
The new interactive performance will blend materials from interviews, cinematic sources and literary sources that focus on people experiencing homelessness and will take place in the city streets in the industrial core of Portland.
hand2mouththeatre.org
begat.org
---
Exit
by Cirque Inextremiste
Rochester Fringe Festival, Rochester, NY
The Rochester Fringe Festival, one of the largest and most successful fringe festivals in the United States will welcome the U.S. Premiere of "Exit" by the French company Cirque Inextremiste to the opening weekend of the Festival. With its stunning acrobatics, Cirque Inextremiste's aerial ballet hanging from a hot air balloon is expected to draw audiences of 20,000 or more.
rochesterfringe.com
2 | THEATER PRODUCTIONS
---
The Art of Theater
by Pascal Rambert, Structure Production, France/NY
Playwright and director Pascal Rambert will develop The Art of Theater in English with actor Jim Fletcher, along with the companion piece With My Own Hands at Performance Spaces for the 21st Century (PS21), Chatham. Both are planned to be presented at the Under the Radar Festival, New York, in January 2022.
The Art of Theater is a short manifesto in which an actor explains what the art of theater is to his dog, while With My Own Hands is a text about the human condition that Rambert adapts with the actor involved.
structureproduction.com
ps21chatham.org
---
Kazu
by Compagnie Singe Diesel
Puppets in the Green Mountains International Festival, Putney, VT
Sandglass Theater will present the puppet show Kazu by Compagnie Singe Diesel at the 11th Puppets in the Green Mountains international festival.
Singe Diesel, based in Brittany, is a puppet theatre company founded by the renowned theater artist Juan Perez Escala. At the crossroads of fantasy and wonder, Singe Diesel's work questions and challenges how we think about what is real and what is imaginary.
puppetsinthegreenmountains.net
singediesel.org
---
Letters to Nour
Written and directed by Rachid Benzine
FIAF – French Institute Alliance Française, New York, NY
FIAF will present the English-language premiere of Letters to Nour written and directed by Rachid Benzine. Through the exchange of letters, the production, adapted for theater by Benzine from his 2016 bestselling novel, tells the heart-wrenching story of a father grappling with the life choices of his daughter, who has left their home country to join her jihadist husband.
fiaf.org
---
Quake
A collaboration between Guy Régis Jr. and Kaneza Schaal
Henry Street Settlement / Abrons Arts Center, New York, NY
Abrons Art Center will develop Quake, a theater production directed by Kaneza Schaal with performers Gina Athena Ulysse and Cheyanne Williams. Quake is a new performance work based on the play When The Whole World Quakes by Haitian playwright Guy Regis Junior. The work, originally written in French and Creole, and now translated into English, addresses the parasitic nature of foreign aid provided to the Global South, which often comes with unreasonable conditions and hidden agendas. Through a poetic, abstract allegory, the play is a piercing critical analysis of foreign countries' involvement in the aftermath of the devastating 2010 earthquake in Haiti.
abronsartscenter.org
---
Appuie-toi sur moi by Cirquons Flex
Fractales by Compagnie Livertivore – Fanny Soriano
Peak Performances /Montclair State University Foundation
Peak Performances will present two French contemporary circus productions during its 2020-2021 season: Appuie-toi sur moi by Cirquons Flex, a company from Réunion Island, and Fractales by Compagnie Libertivore-Fanny Soriano.
Appuie-toi sur moi combines acrobatics and oral narrative in an intimate story of two protagonists, while, through the language of circus and dance, Fractales highlights physical potential within the metamorphosis of the nature and the environment.
peakperfs.org
---
MississipiS
by Duncan Evennou, The Lighthouse Company, France/Atlanta
French performer and director Duncan Evennou, along with the researcher Clémence Hallé, will develop and present MississipiS of the trilogy Matters at Atlanta's Georgia Institute of Technology and develop new research axes at Clark Atlanta University's Art Museum.
Matters I is an exploration of the archives of the inaugural meeting of the Anthropocene Working Group at the Haus der Kulturen der Welt (HKW) in Berlin in 2014; Matters 2 – renamed MississipiS — focuses on the Mississippi: An Anthropocene River, a research organized by Berlin's HKW that seeks to "understand the river as a composite and storied space".
---
Milieu & Alentour
by Renaud Herbin
La Mama, New York, NY
La MaMa Puppet festival will present French master puppeteer Renaud Herbin with his new production Milieu & Alentour, a metaphysical exploration of space and free will. Drawing inspiration from Samuel Beckett's story The Lost Ones, in which a crowd is trapped in a cylinder, Herbin re-examines the cylindrical setting as the home of an elaborate marionette, manipulated at a distance from above.
lamama.org
---
A City of Foxes
Nihaarika Negi and Studio Tamanoir
The Exponential Festival – Brick Theater, Brooklyn, NY
Brick Theater will present A City of Foxes, an intimate approach to immersive storytelling and theatre through VR, conceived by Tamanoir Studio, Paris and the interdisciplinary artist Nihaarika Negi.
Set across the landscape of a fantastical war that thrives on the persecution of foxes, the production will allow the audience to have an interactive encounter with a philosophical fox questioning notions of companionship and loss.
bricktheater.com
tamanoir.co
---
R.A.G.E.
Les Anges au Plafond – Camille Trouvé
Chicago International Puppet Theater Festival, Chicago, IL
By welcoming Compagnie les Anges au Plafond, the Chicago Puppet Festival advances its goal of elevating the art by placing nuanced and diverse examples of puppetry from the international scene under the spotlight in the U.S.
R.A.G.E. tells the story of a man who tells the truth through fiction and multiple identities. Compagnie les Anges au Plafond's production combines marionettes and magic, revealing the manipulation of an object without compromising the magical effect.
chicagopuppetfest.org
2019 / 2020
French Artists/Companies in the U.S.
WATER FOOLS (FOUS DE BASIN)
BY COMPAGNIE ILOTOPIE
OPEN SCENE FESTIVAL, ORLANDO, FL
August 24-September 1st, 2019
The first edition of the outdoors festival Open Scene in Orlando, FL, will present Water Fools by French company Ilotopie, renowned for its intervention in public spaces and on the water since early 80s. With Water Fools, the element of water whether it is a lake, a sea or a river, will become a new field of experimentation for the imagination. The performance will take place on Lake Eola, a landmark of the city of Orlando, as the closing event of the festival.
"If Lewis Carroll had turned his absurdist vision to street arts, teaming up with Salvador Dali and Hieronymus Bosch, he might have come up with Fous de Bassin (Water Fools), a strange, dreamy, floating spectacle created by French company ilotopie, who literally walk on water. It is a beautiful vision of hell." Lyn Gardner – The Guardian
---
PEARL
BY COMPAGNIE LES PLASTICIENS VOLANTS
ARTPARK, LEWINSTON, NY
August 24, 2019
The U.S. premiere of Les Plasticiens Volants street theatre production Pearl (Perle) will take place in the unique setting of Artpark, a public space located on the Niagara Gorge, Lewinston.
Established in 1978, Les Plasticiens Volants is a street theater company practicing a unique technique of creating and operating giant hand-made inflatable puppetry, rarely explored in the U.S. Pearl as all other productions by Les Plasticiens Volants, merges street theatre, visual arts, digital projections, sound effects and nature in an awe-inspiring story.
artpark.net
plasticiensvolants.com
---
CARIBBEAN THEATRICAL ACTIONS – PLAYWRIGHTS FROM THE CARIBBEAN
COMPAGNIE SIJAY, GUADELOUPE
CUNY – MARTIN E-SEGAL CENTER, NEW YORK
Fall 2020

The Martin E. Segal Theater Center, New York, will present the second phase of Actions Caribéennes Théâtrales (ACT) in early December 2019. With a network of universities (Harvard Princeton U., SUNY Buffalo…) as well as New York based directors and actors, the 2-day event include staged readings of six plays translated in English of emerging and established authors with panels of discussion. The publication, an anthology of the plays by the Segal Center, will follow.
---
THE NIGHT OF THE MOLES (WELCOME TO CAVELAND)
PHILIPPE QUESNE
NYU SKIRBALL CENTER FOR THE PERFORMING ARTS, NEW YORK, NY
September12-14, 2019
NYU Skirball Center for the Performing Arts will present the U.S. Premiere of The Night of the Moles (Welcome to Caveland) by Philippe Quesne, September 12-14, 2019; It includes a parade through Washington Square Park (Parade of the Moles), a family-friendly performance (Afternoon of the Moles), and two evening performances (Night of the Moles).
Philippe Quesne, the present artistic director at Nanterre-Amandiers theatre, has created performances and installations that function like ecosystems where the performers and audience explore the dynamics within a community.
---
RADIO LIVE – AURELIE CHARON & CAROLINE GILLET
RITUEL 4 – LE GRAND DEBAT – EMILIE ROUSSET AND LOUISE HEMON
LE MARTEAU ET LA FAUCILLE -JULIEN GOSSELIN
SEULS EN SCENE FESTIVAL AT PRINCETON UNIVERSITY & LEWIS CENTER FOR THE ARTS, PRINCETON, NJ
September 2019
The 8th edition of the festival Seuls en Scène at Princeton U. will present several artists and performances making headlines in France today:
– Aurélie Charon and Caroline Gillet / Radio Live: With traditional radio interviews, performances and live drawings by graphic artists Amélie Bonnin, tell the stories of young adults from different countries of the world.
– Emilie Rousset and film-maker Louise Hémon /Rituel 4 – Le Grand Débat: A recreation of a televised debate for presidential elections using archive materials, it explores the theatrical potential between original document and its representation.
– Julien Gosselin / Le Marteau et la Faucille: Adapted from Don DeLillo's novel, Le Marteau et la Faucille is part of the second intermission of the ten-hour show presented at Festival d'Avignon and Festival d'Automne in 2018.
---
AUTOPHAGIES
BY EVA DOUMBIA
TULANE UNIVERSITY, NEW ORLEANS, LA
Fall 2019 – Spring 2020
After a first exploratory visit, Tulane U. invites director/author Eva Doumbia for the development of the theater performance Autophagies. The project transforms a kitchen into a ritualized performance space for the political history and symbolism of food production: giving homage to those whose cultures and lives were erased in the process of establishing the crops we rely on; and recognizing that we are all responsible for what was sacrificed on the altar of globalization.
The project involves the campus community of Tulane University, the diverse food communities of New Orleans, and archives, libraries, museums and community centers for local food history and practices for a vibrant conversation about food, diversity and Afro-Caribbean colonial history of New Orleans.
---
POLLOCK
BY FABRICE MELQUIOT
DIRECTED PAUL DESVEAUX
COMPAGNIE L'HELIOTROPE
PERFORMANCE SPACE FOR THE 21ST CENTURY CHATHAM, NY
October 4-5, 2019
The play Pollock, written by Fabrice Melquiot for two actors dwells in a post-mortem dream space inhabited by Pollock and Krasner. This play might be called "a contemporary tragedy", but, underlying such a classification is one fundamental inquiry: the question of artistic creation. It is impossible to fully understand the brilliance and madness of Jackson Pollock without studying his marriage to Lee Krasner, a talented artist in her own right. Translated from the French by Miriam Heard and Kenneth Casler, and directed by Paul Desveaux, the U.S. version which premiered at Abrons Arts Center, New York in February 2018, includes actors Jim Fletcher as Jackson Pollock and Michelle Stern as Lee Krasner.
ps21chatham.org
heliotrope-cie.com
---
HIDDEN STORIES
BY BEGAT THEATER
LA JOLLA PLAYHOUSE- WOW FESTIVAL
October 17-20, 2019
Playhouse's Without Walls (WOW) festival will present Hidden Stories, a production by the French theatre company Begat in October 2019. Begat's site-specific performance blends itself into the urban landscape. Supplied with headphones, audiences view four disparate slices of life, four separate yet parallel stories. The audience follows these characters, slipping into their heads and delving into their deepest secrets.
Begat's Hidden Stories will stop in Portland, OR, then continue La Jolla, CA
---
HISTORY OF VIOLENCE
WRITTEN BY EDOUARD LOUIS
DIRECTED BY THOMAS OSTERMEIER
ST. ANN'S WAREHOUSE, BROOKLYN, NY
November-December 2019
St. Ann's Warehouse will present the American premiere of French writer Edouard Louis' moving autobiographical memoir History of Violence in the fall of 2019. Adapted for the stage by Louis from his novel and directed by Thomas Ostermeier of Berlin's Schaubühne Theatre, its telling uncovers the racism, homophobia and obscure power structures deeply rooted in society.
St. Ann's, Schaubühne, Théâtre de la Ville Paris, and Théâtre National Wallonie-Bruxelles joined forces to commission and co-produce the world premiere in Berlin and tour it to New York, Paris and Brussels.
---
DOUGH
BY DAVID LESCOT
COMPAGNIE DU KAIROS, PARIS
NEW OHIO THEATER, NEW YORK
April 2020
Dough (Mon Fric) written and directed by David Lescot in a translation by Chris Campbell is a choral text with a frantic and hectic rhythm which addresses our relationship with money while it crosses different stages of life from early childhood to adulthood.
Presented by New Ohio Theater, in collaboration with Compagnie du Kairos, Dough is performed by three American actors as part of New Ohio's initiative focusing on the international exchanges of plays, productions, and artists and directly reaches young people and family audiences.
davidlescot.com
newohiotheatre.org
---
5E HURLANTS
BY RAPHAELLE BOITEL AND NAO, NAO
BY LE VENT DES FORGES
THE NEW VICTORY THEATER, NY
May – June 2020
The New Victory Theater renowned of its programming for young audiences and families will present two companies from France: 5es Hurlants by Raphaëlle Boitel, Compagnie L'Oubliée, and Nao, Nao by Le Vent des Forges 5e Hurlants, a theatrical, choreographic tribute to the circus arts shows the ability to persevere with five artists train in hoop, acrobatics, straps, juggling and wire. Nao Nao for the little ones age 2-4 uses a stage and puppets made of raw clay to tell the story of a tender, rebellious toddler and his parents.
---
American Artists/Companies in France
LA BRECHE
BY NAOMI WALLACE
DIRECETED BY TOMMY MILLIOT
COMPAGNIE MAN HAAST
FESTIVAL D'AVIGNON – IN
July 17-23, 2019
The Avignon Festival 2019 will present the world premiere of La Brèche (The MacAlpine Spillway) by American playwright Naomi Wallace directed by French director Tommy Milliot, Compagnie Man Haast. Translated from English to French by Dominique Hollier, the story takes place somewhere in the suburbs of a city in Kentucky. It follows four young teens in 1977, and then, fourteen years later. In the meantime, tragedy took place. Alternating between past and present, and following the structure of the play, Tommy Milliot will work with two casts of actors, teens and adults, for this production.
---
SILENCE AND FEAR
DIRECTED BY DAVID GESELSON
COMPAGNIE LIEUX-DITS
THEATRE DE LORIENT (CDN)
2019-2020 (premiere in January 2020)
Director and author David Geselson from Compagnie Lieux-dits and Théâtre de Lorient have joined to create and produce a new theater project, Silence and Fear (working title) inspired by the life of vocalist, composer and activist Nina Simone. The production will examine her life and recount parts of the African-American history rarely told in France. Composed of a diverse artistic team from the two sides of the Atlantic ocean and directed by David Geselson, the story has been developed collectively creating a nuanced story in relation to civil rights, activism, arts, and wounds of the past that are still resonate today.
---
CULTURAL DIASPORA: RESIDENCY OF AFRICAN PLAYWRIGHTS IN THE UNITED STATES
AFRICAN-AMERICAN PLAYWRIGHTS FROM THE U.S. CAMARGO FOUNDATION, CASSIS, FRANCE
2019-2020
The African playwrights, part of the 2018 program of The Cultural Diaspora-Camargo Foundation– Zainabu Jallo, Blessing Hungwe, Osofinsan Femi, and Bode Asiyanbi — will join the African-American playwrights France-Luce Benson,; Kara Lee Corthron; Genevieve Jessee, and Kimberly C. Ellis, for two follow-up events in the United States.
2018 / 2019
French Artists/Companies in the U.S.
RESIDENCY OF FRENCH AUTHOR & DIRECTOR DAVID GESELSON
DEVELOPMENT OF SILENCE AND FEAR – NINA SIMONE
Harlem Stage, New York
July 2018
harlemstage.org
Author-Director David Geselson, Compagnie Lieux-dits and his team will be in residency at Harlem Stage mid-July 2018 for the development of the project Silence and Fear based on singer, songwriter and activist in the civil rights, Nina Simone with a group of African-American actors. A first collaboration with Harlem Stage, the two-week residency will culminate with an open rehearsal to the public and professionals.
Silence and Fear is co-produced by a several French theaters including Theatre de la Bastille, Paris, in partnership with Harlem Stage and will premiere in France early 2020. Presentation at Harlem Stage and in the United States will follow.
PERFORMANCES BY ELISE VIGIER, FANNY DE CHAILLE, AND DAVID GESELSON
FESTIVAL SEULS EN SCENE – PRINCETON UNIVERSITY – DEPT. OF FRENCH AND ITALIAN & LEWIS ARTS CENTER
Princeton, NJ
September 2018
http://arts.princeton.edu/frenchtheater/
The sixth edition of Seuls en scène Festival at Princeton University organized by Florent Masse, Professor and curator, will run from mid-September to mid October 2018 at Princeton Lewis Center for the Arts. It will highlight new artists never presented including to women directors with two performances of Harlem Quartet by Elise Vigier, a theatrical adaptation of James Baldwin's famous book of the same name developed in collaboration with the musician and slammer Saul Williams and Kevin Keiss; two performances of The Gonzo Conference by Fanny de Chaillé, an artist at the intersection of dance and theater. Bypassing the form of conference, de Chaillé embraces the cause of rock in a passionate discourse; and two performances of Doreen by David Geselson, a theater production for two actors revisiting the exceptional relationship between André Gorz and his wife Doreen before committing the ultimate gesture, suicide.
DAVID GESELSON AND MOHAMED EL KHATIB
FIAF – CROSSING THE LINE FESTIVAL
New York
September 2018
http://www.fiaf.org/
The multidisciplinary annual FIAF festival Crossing the line will open with two epistolary-themed theater projects, one by director David Geselson named Lettres non écrites. The project brings to life unwritten letters whose authors have shared orally the contents with Geselson. Letters are re-composed, approved by the authors who remain anonymous, and then read in English to audiences in an intimate setting.
The second, Finir en beauté by Mohamed El Khatib addresses the loss of a close person through a delicate reconstruction of written exchanges (letters, emails…) with his mother before her death. It examines relationships, death and the experience of grieving (with English surtitles).
IPHIGENIA AT LESVOS: STORY OF A REFUGEE BY MARION SCHOEVAERT, IN PARENTHESES
UNIVERSITY OF IOWA, IO
JERSEY CITY THEATER, NJ
October – November 2018
http://iphigeniaproject.com/company/
Iphigenia at Lesvos: Story of a refugee is a documentary film opera about a woman's experience of 21st century wars and the refugee crisis. Loosely adapted from Euripide's Iphigenia plays, the text and film footage are continuously updated in this transdisciplinary performance to keep the refugees center stage in real time. The creative team includes French director Marion Schoevaert, U.S. playwright Lisa Schlesinger, Syrian composer Kinan Azmeh, Russian filmmaker Irina Patkanian, and French-Lebanese Paris based violinist/actress Layale Chaker.
The production will premiere at University of Iowa, Thayer Theater early November 2018 and will travel to Jersey City, NJ in 2019.
THEATRICAL ADAPTATION BY BLANDINE SAVETIER AND WADDAH SAAB OF SNOW BASED UPON THE NOVEL BY ORHAN PAMUK
CUNY MARTIN E. SEGAL CENTER, NEW YORK
October 2018
http://thesegalcenter.org/
Development production workshop and stage reading of an abridged version of the theatrical adaptation of Snow by Orhan Pamuk by French director Blandine Savetier and French-Lebanese Waddah Saab will take place this fall in New York in partnership with CUNY-Martin E. Segal Center. The staged reading will be followed by a talk with Orhan Pamuk and the creative team about the life of Snow on stage. The adaptation will be developed an ethnically diverse cast four to five New York based actors.
U.S. TOUR OF CHAMBRE NOIRE BY PUPPETRY COMPANY PLEXUS POLAIRE – INGVILD ASPELI THE PUBLIC THEATER-UNDER THE RADAR FESTIVAL, NEW YORK CHICAGO PUPPETRY INTERNATIONAL FESTIVAL, IL
January 2019
https://www.publictheater.org/Under-the-Radar/https://www.chicagopuppetfest.org/
In January 2019, The Public Theater- Under the Radar Festival in New York and Chicago International Puppetry Festival will present the new production Chambre Noire by French company Plexus Polaire conceived by puppeteer Ingvild Aspeli offering a visibility to the company as never before.
In New York as well as in Chicago, Plexus Polaire will participate in Festival symposia that gather numerous professionals and presenters from the world as well as in training and educational programs in Chicago.
Chambre noire is a wild hallucination at the time of the death of Valerie Jean Solanas (1936-1988) and a complex, plural, outrageous portrait of Solana, a complex, multi-sided, radically feminist, author of the "SCUM Manifesto", and the woman who shot Andy Warhol without being able to kill him.
U.S. TOUR OF LA CHUTE DES ANGES (WHEN ANGELS FALL) BY RAPHAELLE BOITEL
PEAK PERFORMANCES, MONTCLAIR U., NJ
ART EMERSON, BOSTON, MA
THE WILLIAMS CENTER FOR THE ARTS, LAFAYETTE COLLEGE, EASTON, PA
February 2019
https://www.montclair.edu/student-development-campus-life/center-student-involvement/events/
The U.S. premiere of a new work La chute des anges by aerialist and circus artist Raphaelle Boitel will take place at Montclair State University, part of the Peak Performances series. Boitel's extended stay will allow engagements activities and workshop with communities and students (Feb 9-17). Then, the production will tour to Boston at ArtsEmerson (February 18-24) and Easton, at Williams Center for the Arts, Lafayette College, Easton, PA (Feb 25).
La chute des anges, a look at the fragility of balances, the manipulation of the masses and the place of technology in modern society will premiere in France in October 2018.
CARIBBEAN THEATRICAL ACTIONS – PLAYWRIGHTS FROM THE CARIBBEAN
CUNY-MARTIN E-SEGAL CENTER, NEW YORK, AND COMPAGNIE SIJAY, GUADELOUPE
May 2019
http://www.thesegalcenter.org/
English language translations, publication and staged readings of contemporary plays by six authors, from Guadeloupe, Martinique and Haiti will be developed during the course of the spring 2019 and culminate with a series of staged readings, talks and workshops at CUNY Martin E Segal Center in May 2019. Developed in partnership with Compagnie Siyaj, Guadeloupe, it includes plays by emerging and established authors. Pre-selected authors include from Haiti, Syto Cave, Guy Régis Junior, from Guadeloupe, Maryse Condé, Gerty Dambury and from Martinique, Daniel Boukman, Gaël Octavia.
BOUT À BOUT BY CLAN DES SONGES
THE NEW 42ND STREET /THE NEW VICTORY THEATER
New York
May 30-June 9, 2019
http://www.newvictory.org/
The puppetry company from Toulouse, Le Clan des Songes, led by Marina Montesfusco will be back at The New Victory Theater — the leading presenter of young audience productions in New York — for 19 performances with its latest piece Bout à bout.
Using simple sections of rope to create lifelike characters in whimsical vignettes, Bout à bout is a 35-minute performance for the youngest aged 3 to 5.
RESIDENCE OF PERFORMER-DIRECTOR DOROTHÉE MUNYANEZA
MUSEUM OF CONTEMPORARY ART, CHICAGO, IL
May-July 2019
https://mcachicago.org/
Museum of Contemporary Art (MCA) in Chicago has invited the Rwanda-born performer, singer, director Dorothée Munyaneza for a 3-month residency during spring-summer 2019 to explore and devise the early phases of a new work exploring subject of body and memory while connecting with the people of Chicago's South Side. Concentrating in developing new ways to tell the stories of the black communities, especially women, she will collaborate with several Chicago-based artists such as composer-vocalist Ben Lamar Gay, dance artists Keyierra Collins Brianna Heats, designers Norman Teague and Folayemi Wilson, among others.
Hidden stories by Begat Theater
Boom Arts, Portland, OR
July 2019
http://www.boomarts.org/
The producing and presenting organization, Boom Arts, Portland has invited the street art company Begat Theater from Marseille with its site-specific performance to the first edition of a new contemporary outdoor festival Acting Out. In Hidden Stories that will be presented in English language in the Director Park area, Downtown Portland, audience members follow four discreet and interweaving narratives through public spaces, listening to characters' inner thought through in-ear devices and experiencing the everyday environments anew. This invitation follows an extensive curatorial research by Ruth Wikler in France where she visited Aurillac street art festival as well as the contemporary circus festival CIRCA in Auch.
American Artists/Companies in France
CULTURAL DIASPORA: RESIDENCY OF FOUR AFRICAN-AMERICAN PLAYWRIGHTS FROM THE U.S.
CAMARGO FOUNDATION, CASSIS, FRANCE
June-July 2018
http://camargofoundation.org/
Four mid-career African-American playwrights, all women: France-Luce Benson, Haitian-American living in New York; Kara Lee Corthron; Genevieve Jessee from the San Francisco bay area, and Kimberly C. Ellis, — will join four African playwrights — Zainabu Jallo, Blessing Hungwe, Osofinsan Femi, and Bode Asiyanbi — for a four-week residency in June at Villa Camargo, Cassis. The residency will offer the opportunity to share understandings of experiences, cultures and creative processes while developing new works and expanding networks. Readings of plays and public talks will take place at the end of June. Collaboration with Festival de Marseille, Radio France International (Theater program), Kennedy Center for the performing arts, and other institutions in New York are in development for future exchanges. Director Chuck Mike and playwright Carlyle Brown from the United States who conceived the program with Carmago Foundation will accompany the eight playwrights during the entire residence.
A THREE-YEAR PROJECT WITH AUTHOR AND DIRECTOR RICHARD MAXWELL IN FRANCE
THEATRE GARONNE, TOULOUSE
THEATRE NANTERRE-AMANDIERS, PARIS
FESTIVAL DES ARTS DE BORDEAUX
LA COMMUNE, AUBERVILLIERS
FESTIVAL ACTORAL, MARSEILLE
Fall 2018-2021
http://www.theatregaronne.com/
A three-year association with American playwright and director Richard Maxwell will start with the presentation of his recent production Paradiso at Théâtre Garonne, Toulouse, Théâtre Nanterre-Amandiers, part of Festival d'automne à Paris, and Festival des Arts, Bordeaux. Maxwell will then embark in the development of two new works to be presented during the season 2019/2020 and 2020/2021 in partnership with a network of French and European presenters.
While Maxwell's work has already been seen in France in theater institutions, this is the first long-term commitment toward the artist, one of the most adventurous directors and playwrights of his generation renowned for his bare approach of text and direction eliminating all excess to go the essential.
2017 / 2018
Discovery Green Conservancy, Houston, TX
"Il n'est pas encore minuit" (it is not midnight yet)
by Compagnie XY
Discovery Green Conservancy, located in Houston, Texas, will present "Il n'est pas encore minuit" (it is not midnight yet) by the contemporary circus ensemble known as Compagnie XY on June 2-3, 2017. The two free public performances in Houston by Compagnie XY are part of a larger North America tour that includes Spoleto USA Festival, Charleston, SC, and Lincoln Center Festival, New York, as well as stops in Canada, and in Mexico. It will be the first performance of a French contemporary circus company in Houston.
Compagnie XY is widely regarded as one of the leading contemporary circus companies in the world. With their unique voice, and 22 highly skilled acrobats, XY continue to push boundaries in the creation of poetic and jaw-defying spectacle.
www.discoverygreen.com
https://vimeo.com/154179095
Lincoln Center Festival, New York, NY
"While I was Waiting"
By Omar Abusaada, Text: Mohammad Al Attar
Lincoln Center Festival 2017 will present 4 performances (July 19-22) of "While I Was Waiting" directed by Omar Abusaada and written by Mohammad Al Attar. It features a cast of actors from Syria. Six of the traveling artists are Syrian refugees residing in France and Germany. The play offers a chilling reflection on the aftermath of political upheaval in the Syrian capital through the eyes of the family of Taim, a young man who fell into a coma after between beaten by unknown attackers in Damascus.
"While I Was Waiting" exemplifies Lincoln Center's commitment to partnering with cultural organizations from around the world-in particular from France-to present exceptional works of theater. "While I was Waiting" is a co-production with Festival d'Avignon, Pôle Arts de la scène – Friche La Belle de Mai (Marseille), Les Bancs publics – Festival Les Rencontres à l'échelle (Marseille), and Festival d'Automne Paris, among other European presenters. It is presented in partnership with RFI, France 24 and Monte Carlo Doualiya.
www.lincolncenter.org/lc-festival/
video: https://www.theatre-video.net/video/Omar-Abusaada-Alors-que-j-attendais-Extrait-70e-Festival-d-Avignon
U.S. TOUR
PICA – Time Based Art Festival, Portland, OR
Baryshnikov Arts Center (BAC), New York, NY
Tour of "Unwanted"
By Dorothée Munyaneza
Portland Institute of Contemporary Art (PICA) and Baryshnikov Arts Center (BAC) partnered to present "Unwanted" a new work by the Rwandese artist Dorothée Munyaneza.
After Munyaneza's residency time in Portland (2016) and in New York (2017), the performances of "Unwanted" will be presented at PICA, part of Time Based Art Festival, then at BAC, New York, in September 2017?
Munyaneza's "Unwanted" is a transcendent, cross-disciplinary theater piece that combines theater, singing, dance, text, percussion and story-telling to address the hundreds of thousands of rapes that were part of the 1994 Rwandan genocide––and the children born from them.
It is performed by Munyaneza along with Portland-based music artist Holland Andrews and French musician Alain Mahé. The work will also premiere at the Avignon Festival this July.
www.pica.org/programs/tba-festival
www.bacnyc.org
U.S. TOUR
French Institute Alliance Francaise (FIAF), New York, NY & Theatre Raymond Kabbaz, Los Angeles, CA
Tour of "Le petit chaperon rouge"
By Joël Pommerat
French Institute Alliance Française (FIAF), New York, and Theatre Raymond Kabbaz, Los Angeles, partnered to present "Le petit chaperon rouge" (Little Red Riding Hood) by author-director Joël Pommerat whose work has been rarely seen in the United States.
"Le petit chaperon rouge" is a re-telling by Pommerat of the famous folktale. With his own reimagining, Pommerat has stripped down the characters to their utmost simplicity and truthfulness by exposing their basic emotions such as Little Red's eagerness and innocence, The Wolf's carnality and manipulation… The production will be presented in March 2018 in French with English surtitles first at FIAF, part of Kids Tilt Festival, and, then, at Theatre Raymond Kabbaz.
www.fiaf.org
www.theatreraymondkabbaz.com
The Invisible Dog Art Center, New York, NY
"Au Coeur" (To The Heart)
By Thierry Thieû Niang
The Invisible Dog Art Center, Brooklyn, New York, has invited the director Thierry Thieu Niang to develop "Au Coeur" (To The Heart) in Spring 2018.
Conceived in 2016 in France for a cast of twenty performers aged 7 to 17, "Au Coeur" is a response to the images of refugee children's bodies lying on the ground, images of rest and quiet, but also images of terror. The production was successfully developed in Avignon, then in Paris, and many other locations in France each time with a different cast of local children and teenagers.
For the New York version, Thierry Thieû Niang will collaborate with the musician and composer Laurie Anderson and twenty children from all five boroughs of New York City. The children will share the stage with Laurie Anderson, who will give the performance its tempo. Other collaborators include the author Linda Lê and the visual artist Claude Lévêque for the set.
www.theinvisibledog.org
Maison des Arts et de la Culture de Créteil (MAC)
"Harlem Quartet"
By Elise Vigier with Saul Williams
Maison des Arts et de la Culture de Creteil (MAC Creteil) in partnership with Theatre des lucioles (Elise Vigier) invite the poet/slammer/musician/performer Saul Williams for the creation of "Harlem Quartet", directed Elise Vigier, a play adapted from James Baldwin's novel "Just above my head" developed to shed light on Baldwin's free, complex, lucid and intelligent views, which provide answers to contemporary questions.
American slam-poet, writer, musician and actor, Saul Williams is a specialist of James Baldwin's work, gospel and Black American's history. He constantly seeks new forms of expression for his art.
The residence will allow him to work directly with Elise Vigier, the director, Kevin Keiss, the dramaturg, the cast and the musicians on stage. Williams' residency will take place in September 2017 and "Harlem Quartet" will premiere in November 2017 in Creteil and, then will tour France.
www.maccreteil.com
2016 / 2017
New 42nd Street Studio
New York, NY
Cité
Le Clan des Songes – Marina Montefusco (Puppetry)
May 11-22, 2016
new42.org
The New 42nd Street Studio / The New Victory Theater will present 20 performances of the children's production Cité by the French puppetry company, Le Clan des Songes, in May 2016. Previously invited by The New Victory in 2013 to present their work Fragile, the company created Cité as a direct result of their stay in New York, a vibrant, poetic performance for the very young. To a soundtrack of whimsical original music, a small man chases the sun as it darts between the tops of towers, and a city comes alive in fun and surprising ways. Inspired by the contemporary art of New York-based painter Evsa Model, this wordless work is an enthralling exploration of shape, color and shadow puppetry.
Brooklyn Academy of Music (BAM)
New York, NY
Minuit
Yoann Bourgeois
October 5-8, 2016
bam.org
Brooklyn Academy of Music (BAM), as part of the 2016 Next Wave Festival, will present the U.S. debut of the acrobat Yoann Bourgeois with his circus-inspired theater piece, Minuit, in October 2016. Minuit is composed of several short pieces: Fugue/Trampoline, Fugue/Table, La Balance de Lévité (Levitating Scales), and Mobile, punctuated by Les Paroles Impossibles (Impossible Speech) set to original music played live by Laure Brisa. Dance, juggling, acrobatics, and live music converge to explore the concept of what it all means through a variety of theatrical elements and games. Minuit is being presented as part of BAM's Brooklyn-Paris Artist Exchange with Théâtre de la Ville, Paris.
PRINCETON UNIVERSITY
Princeton, NY
French Theater Festival Seuls en scène
With Roland Auzet, Mohammed El Khatib, Anne Alvaro, Audrey Bonnet, Noé Soulier, David Lescot, Maelle Poesy, Kevin Keiss, Caroline Guiela Nguyen, et le Jeune Théâtre National
arts.princeton.edu
Sept 24-October 9, 2016
The fifth edition of the Princeton French Theater Festival Seuls en scène will present a number of diverse productions with emerging directors such Caroline Guiela Nguyen and Maelle Poesy, the latter with her recent rendition of Candide. Author and director Mohammed El Khatib will present mourir en beauté, a hit of the 2015 Avignon Festival Off. Roland Auzet, in collaboration with La muse en circuit will bring to the Princeton campus Bernard-Marie Koltès's Solitude dans les champs de coton, with actresses Audrey Bonnet and Anne Alvaro; in this original production, each member of the audience will discover the text through headphones. Author-director David Lescot will show his moving production of Ceux qui restent.
CalArts Center for New Performance
Valencia, CA
The Gap
A French-American theatre project
Arnaud Meunier, Director, Comédie de St. Etienne
Alexandra Badea, Playwright; Aleshea Harris, Playwright; Charlotte Lagrange; Dramaturg.
October 2016 – April 2017
calarts.edu
CalArts, Valencia, CA, in collaboration with Comédie de St-Etienne, under the leadership of the director Arnaud Meunier, will develop the French-American theater project The Gap in collaboration with professionals actors from the two institutions, and with the participation of French-Romanian author Alexandra Badea, the American playwright Aleshea Harris, and the dramatist Charlotte Le Grange in fall 2016 and spring 2017.
U.S. Tour of La mélancolie des dragons
Vivarium Studio – Philippe Quesne
THE KITCHEN (DBA HALEAKALA)
New York, NY
Jan 10-14, 2017
thekitchen.org
THE WALKER ART CENTER
Minneapolis, MN
Jan 26-28, 2017
walkerart.org
WEXNER CETNER FOR THE ARTS –
THE OHIO STATE UNIVERSITY
Columbus, OH
Jan 19-22, 2017
wexarts.org
The Kitchen, New York, in collaboration with Under The Radar Festival, the Walker Art Center, Minneapolis, and the Wexner Center for the Arts, Columbus, Ohio, will join efforts to present the acclaimed production of La mélancolie des Dragons by Philippe Quesne in January 2017.
With an ingenious hand for reinventing the conventions of theater, Philippe Quesne smartly constructs La mélancolie des dragons into a work that celebrates the absurd and explores the profound joy of friendship. Although the production has previously toured internationally and the along the west coast of the United States, it will be the first time that Quesne's large production comes to New York, Columbus and Minneapolis.
U.S. Tour of Dark Circus
Stereoptik – Romain Bermond and Jean-Baptiste Maillet
HERE ART CENTER – DREAM MUSIC PROGRAM
New York, NY
May 15-21, 2017
here.org
SAN FRANCISCO INTERNATIONAL FESTIVAL OF THE ARTS
San Francisco, CA
May 25-June 11, 2017
sfiaf.org
Two organizations, San Francisco International Festival for the Arts and HERE Art Center in New York, will present the U.S. debut of Company Stereoptik in performances of their latest production, Dark Circus, in May 2017.
Here Art Center will be hosting the company as part of its series, Dream Music Puppetry.
Dark Circus is a collaboration between Pef, renowned French author and illustrator of numerous children's books, and Romain Bermond and Jean-Baptiste Maillet, both composers and visual artists with Company Stereoptik. In this sad circus, catastrophes pile up one after another. The aerialist crashes to the ground, the animal trainer is devoured by his lion, the human cannonball never returns from outer space. Luckily there's a clumsy juggler to breathe a little color into the proceedings. If the circus is dark, the tone is light. Music and images accompany the action and the story is laced with poetic moments and a healthy dose of irony.
SPOLETO USA FESTIVAL
Charleston, SC
Il n'est pas encore minuit
Compagnie XY
June 4-11, 2017
spoletousa.org
The Spoleto USA Festival will present the mesmerizing production Il n'est pas encore Minuit by the new circus group Company XY, renowned for their fierce and daredevil flying acrobats, as well as their ensemble work based on friendship and trust. These performances are part of a large tour in North America that will include several cities in the United States and Canada.
2015 / 2016
French Institute Allilance Francaise (FIAF)
Joris Lacoste
Suite No. 1 'ABC'
fiaf.org
Philadelphia Fringe Festival DBA FringeArts
Joris Lacoste
Suite No. 1 'ABC'
fringearts.com
On the Boards
Philippe Quesne
La Mélancolie des Dragons
ontheboards.org
Portland Institute for Contemporary Art
Philippe Quesne
La Mélancolie des Dragons
pica.org
Culture Mill
Company Lasko, Isabelle Elizéon, Frédéric Rebiére, and Sophie D'Orgeval
Residency
culturemill.org
Los Angeles County Museum of Art (LACMA)
Gisèle Vienne and Dennis Cooper
The Ventriloquists Convention
lacma.org
Museum of Contemporary Art (MCA)
Gisèle Vienne and Dennis Cooper
The Ventriloquists Convention
2.mcachicago.org
The Public Theater / Under the Radar Festival
Antoine Defoort and Halory Goerger
Germinal
publictheater.org
Walker Art Center
Antoine Defoort and Halory Goerger
Germinal
walkerart.org
New York Live Arts, Inc.
Winter Family
(Ruth Rosenthal and Xavier Klaine)
Jerusalem Cast Lead
newyorklivearts.org
NYU Skirball Center for the Performing Arts
Camille Boitel
L'immédiat
nyuskirball.org
Begat Theater
Dion Doulis, Karin Holmström, and Erika Latta
La Disparition – version 2.0
begat.org
Association Théâtre du Bout du Monde
Miguel Borras
From the Bronx to the Seine and Three Beggars and a Rich Man
by Louis Calaferte
compagnie-tbm.blogspot.fr
New York Express 2 Festival
Annie Dorsen
Yesterday Tomorrow
Andrew Schneider
YOUARENOWHERE
Le Maillon, théâtre de Strasbourg / Scène européenne
maillon.eu
Théâtre Garonne
theatregaronne.com
Théâtre de Genevilliers
theatre2gennevilliers.com
2014 / 2015
NEW YORK LIVE ARTS, INC.
www.newyorklivearts.org
Kindertotenlieder
Gisèle Vienne
PRINCETON UNIVERSITY PRINCETON
www.princeton.edu
Festival Seuls en scène
Benjamin Lazar, Clément Hervieu-Leger, Loic Corbery, Audrey Bonnet, Daniel San Pedro, Arthur Nauzyciel, Xavier Gallais, Nicolas Bouchaud, Judith Henry, Nicolas Truong, Guillaume Ravoire.
PORTLAND INSTITUTE OF THE ARTS AND ON THE BOARDS
www.pica.org
www.ontheboards.org
Germinal
L'amicale de production –
Halory Georger and Antoine Defoort
THE VIVIAN BEAUMONT THEATER, INC.
www.lct.org
The 2014 Directors Lab
Maelle Poesy
LARK PLAY DEVELOPMENT CENTER
www.larktheatre.org
Marion Aubert's Debacles at HotInk festival
Marion Aubert
THEATRE DE LA VILLE
Tour in the US: San Francisco; Ann Arbor; New York; Chicago
www.theatredelaville-paris.com
Six Characters in Search of an Author by Pirandello, on tour in the U.S.: Cal Performances, CA; University of Musical Society (UMS), Ann Arbor, MI; Brooklyn Academy of Music, NY; and Ionesco Suite, Chicago Shakespeare Theater, IL
Emmanuel Demarcy Mota (Director)
ECOLE DE LA COMEDIE DE ST. ETIENNE
www.lacomedie.fr/ecole
n.a.
Aleshea Harris (Author), Rachel Park (Director)
EPPGHV (Etablissement Public du Parc et de la Grande Halle de la Villette)
www.villette.com
The Record
600 Highwaymen – Michael Silverstone and Abigail Browde
THEATRE DE LA MARIONNETTE (Le Mouffetard)
www.lemouffetard.com
Dogugaeshi
Basil Twist
2013 / 2014
American Conservatory Theater, San Francisco, CA
Project "Rendez vous de l'Infra Ordinaire" by Marion Aubert, playwright, Marion Guerrero, director, and Capucine Ducastelle, actress, in fall 2013
www.act-sf.org
Ann Arbor Summer Festival, Ann Arbor, MI
Presentation of "Mobile Homme" by Transe Express at the Ann Arbor Summer Festival and at the Kennedy Center in Washington, D.C. in 2014.
www.a2sf.org
Baryshnikov Arts Center, New York, NY
Project "Phèdre les oiseaux" by Frédéric Boyer, playwright, Jean-Baptiste Sastre, director, Ellen Hammer, dramaturg, and Hiam Abbass, lead actor, on May 21-29, 2013
www.bacnyc.org
French Institute Alliance Française, New York, NY
Project "Hot From Paris" with the presentation of "La Loi du marcheur" by Nicolas Bouchaud, "22H13" by Pierrick Sorin, and "Molly Bloom" by Anouk Grinberg in the 2013/2014 season
www.fiaf.org
Lincoln Center Theater / The Vivian Beaumont Theater, Inc., New York, NY
Participation of the French playwright, Lancelot Hamelin, and the French director, Philippe Calvario, at the 2013 Directors Lab
http://www.lct.org/directorsLabMain.htm
New York Live Arts, Inc., New York, NY
Project "Disabled Theatre" by Jérôme Bel which will take place in November 2013
www.newyorklivearts.org
New York Theatre Workshop, New York, NY
Project "Je Tremble (3)" by Joël Pommerat which will take place in April – May 2014
www.nytw.org
Performa, New York, NY
Project "Bivouac" by Philippe Quesne which will take place on November 1-24, 2013
www.performa-arts.org
Playwrights Foundation, San Francisco, CA
Project "Des Voix… Found In Translation: Deux" that will present three of the following six finalists: Gustave Akapko, Julien Mabiala Bissila, Frederic Sontag, Christophe Honoré, Lucie Depauw, and Pauline Sales, on March 21-23, 2014
www.playwrightsfoundation.org
www.desvoixfestival.com
Ecole de la Comédie de Saint-Etienne, Saint-Etienne
Project "Waiting for the Flood," a residency of Carey Perloff at the Ecole de la Comédie de Saint-Etienne in November 2013
www.lacomedie.fr/ecole
EPCC Arts 276, Festival Automne en Normandie, Rouen
Presentation of "In the Pony Palace / Football" and "Seagull (Thinking of you)" by Tina Satter from November 13 to 22, 2013
www.automne-en-normandie.com/en
Le Maillon, Théâtre de Strasbourg, Scène Européenne, Strasbourg
Project "New York Express in Strasbourg," with the presentation of three productions: "Seagull (Thinking of you)" by Tina Satter, "Vision Disturbance" by Christina Masciotti / Richard Maxwell, and "Bronx Gothic" by Okwui Okpokwasili, in April 2014
www.maillon.eu
www.festivalpremieres.eu
Maison Antoine Vitez – Centre international de la traduction Théâtrale, Paris
Project "Des Voix… Found In Translation / The French Act" that will present the works of three American playwrights: Liz Duffy Adams, Marcus Gardely, and Rajiv Joseph in Paris in the 2013 / 2014 season
www.maisonantoinevitez.com
Nouveau théâtre de Montreuil / Centre dramatique national, Montreuil
Presentation of "Life and Times Episodes 1-2-3-4" by the Nature Theater of Oklahoma on November 6-9, 2013
www.nouveau-theatre-montreuil.com
T2G – National Dramatic Center for Contemporary Creation, Gennevilliers
Project "New York Express in Gennevilliers," with the presentation of three productions: "Seagull (Thinking of you)" by Tina Satter, "Vision Disturbance" by Christina Masciotti / Richard Maxwell, and "Bronx Gothic" by Okwui Okpokwasili, in Spring 2014
www.theatre2gennevilliers.com
Théâtre Garonne, Toulouse
Project "New York Express in Toulouse," with the presentation of three productions: "Seagull (Thinking of you)" by Tina Satter, "Vision Disturbance" by Christina Masciotti / Richard Maxwell, and "Bronx Gothic" by Okwui Okpokwasili, in Spring 2014
www.theatregaronne.com
2012 / 2013
Teatro de la comedia
San Juan, PR
July 1st – September 30th, 2012
"Le projet H.L.A." by Nicolas Fretel (Author), Rafael Acevedo (Director).
Venue: Theatre Victoria Espinosa, SJ
www.fretel.net
The Vivian Beaumont Theater
New York, NY
July 9-28, 2012
Thomas Blanchard (Director) at Directors' Lab.
www.lct.org
www.thomas-blanchard.com
New York Theater Workshop
New York, NY
August 2012
"Je Tremble 3" (temporary title) by Joel Pommerat at New York Theater Workshop and Darmouth College.
www.nytw.org
French Institute Alliance Française (FIAF)
New York, NY
August 9-19 (res) ; October 1-9 (res) October 10-14, 2012 (Perf.)
Crossing the line festival 2012
"Closing of Love" (Clôture de l'Amour) by Pascal Rambert (author and director); Kate Moran (actress and translator).
Venue: Performing Garage or Baryshnikov Arts Center (TBC).
www.fiaf.org
www.pascalrambert.com
National Jewish Theater Foundation, Coral Gables
Coral Gables, FL
September 10-23, 2012
"Toujours l'Orage" (Storms Still) by Enzo Cormann (Author), Arnold Mittelman (Director), Guila Clara Kessous (translator) . Venue: Lark Play Development Center, New York.
www.nationaljewishtheater.com
www.cie111.com
Brooklyn Academy of Music
New York, NY
November 9-10, 2012
"Sans Objet" by Aurélien Bory-Company 111. Venue: BAM Opera House.
www.bam.org
Theatre de Genevilliers
Genevilliers, France – Los Angeles, CA
December 2012-May 2013
"A micro-history of the World Economic, Danced" by Pascal Rambert (Director).
www.theatre2gennevilliers.com
www.pascalrambert.com
The New 42nd Street
New York, NY
April 15-28 (1st company) 22 – May 12 (2nd company), 2013
"Fragile" by Clan des Songes and "Le Grand C" by Company X,Y.
Venues:New Victory and Duke Studios.
www.new42.org
www.ciexy.com
www.clan-des-songes.com
Wax Factory
New York, NY
May 2-4, 2013
"Hidden Stories / Histoires cachées" by Begat Theater and Wax Factory, part of the mars2bklyn Festival.
www.waxfactory.org
www.begat.org
Spoleto Festival
Charleston, NC
May 24-June 9, 2013
"Le Grand C" by Company X,Y.
www.spoletousa.org
www.ciexy.com
Contact
Nicole Birmann Bloom
Program Officer, Performing Arts
nicole.birmann@frenchculture.org