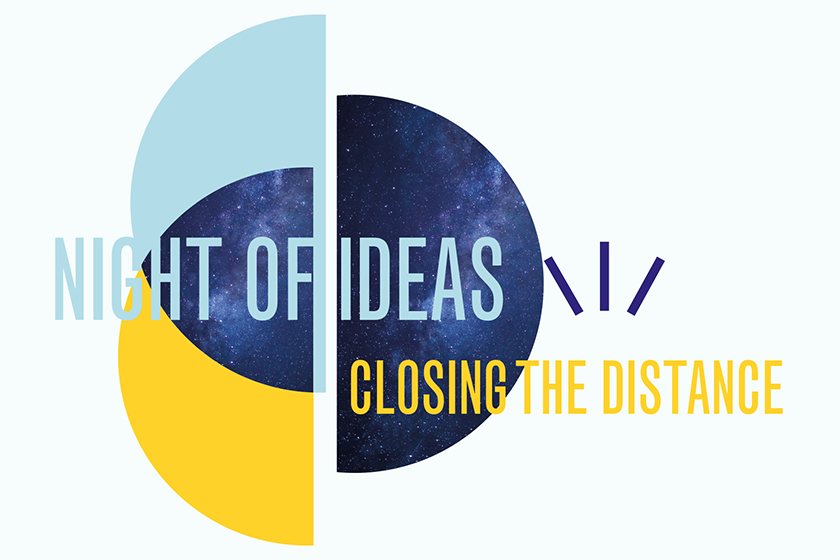 Night of Ideas
Night of Ideas is a 24-hour virtual marathon of philosophical debate and artistic performances. The event is coordinated by the Institut Français, Paris and co-produced by the Cultural Services of the French Embassy in the United States.
The global live stream is available to stream at nightofideas.org
History
Night of Ideas is going virtual for the first time in 2021.
The 2020 U.S. edition was the largest to date with in-person events at the Brooklyn Public Library in New York City; Slover Library in Norfolk, Virginia; the Field Museum in Chicago; Books & Books Coral Gables, in Miami; Harvard University's William James Hall in Boston; the Natural History Museum of Los Angeles County; and the San Francisco Main Public Library.
Theme
This year's theme, "Closing the distance" (Proches, in French), speaks to our shared sense of isolation and seeks to explore new means of fostering community and togetherness. Evoking the new forms of solidarity that our economic and social crises call for; as well as our changing relationship to space and mobility; this theme prompts audiences and participants to consider our relationship to today's challenging world and those around us in thoughtful, creative, and engaging ways.
This year's events bring together major thinkers and artists to participate in philosophical conversations about some of the most pressing issues of our time, in an atmosphere resembling a summer music festival or a large-scale art happening. 2020 guest speakers and artists include 2019 Nobel Prize-winning economist Esther Duflo; Institute for Advanced Studies anthropologist, sociologist, and physician Didier Fassin; journalist and sex columnist Maïa Mazaurette; and philosophers Catherine Malabou and Barbara Stiegler. There will also be performances and art by French juggler Jérôme Thomas, and two of his colleagues, Jörg Müller and Martin Schwietze, Armenian-Syrian installation artist Hratch Arbach.
---
All events are free and open to the public.
nightofideas.org