Artists & Projects in the U.S.
Due to COVID-19, most of the following projects have been postponed until 2021-2022
1 | ARTS IN PUBLIC SPACES
---
Monumental Constructions by Olivier Grossetête
Halcyon – By The People Festival, Washington, DC
By the People Festival has invited the French artist, Olivier Grossetête, to develop and construct a monumental, architectural structure out of cardboard and tape on the National Mall. In partnership with the Trust for the National Mall, the participatory project, which doesn't require any cranes or other machinery, will bring together volunteers, schools and organizations to erect the structure. On the final day, the installation will be communally de-constructed and the site will return to its natural form, a testament to what is possible when we come together as a community.
bythepeople.org
---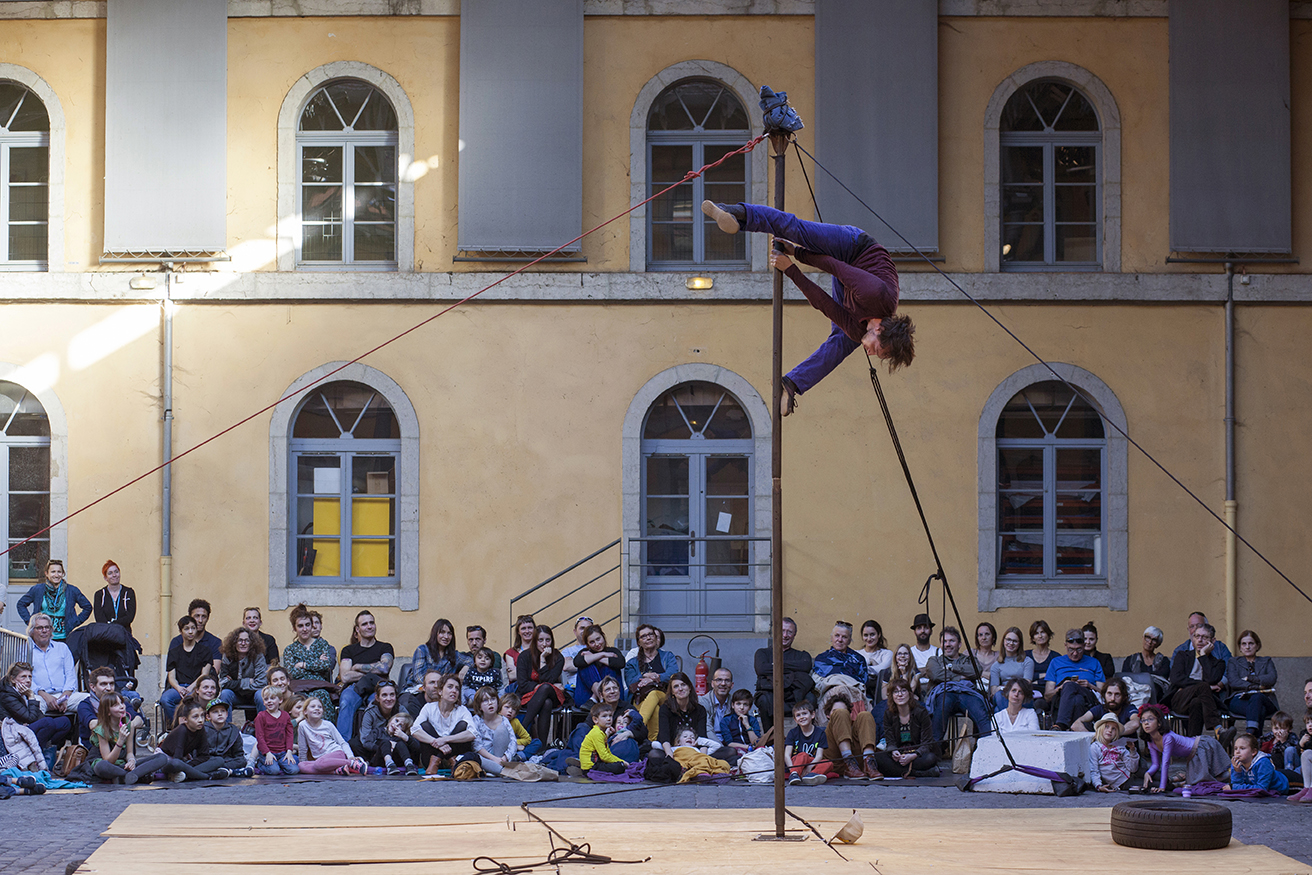 Instable
by Compagnie Les Hommes Penchés – Christophe Huysman
Pittsburgh Trust for Cultural Resources – The Dollar Bank Rivers Arts Festival
The Dollar Bank Three Rivers Arts Festival, presented by the Pittsburgh Cultural Trust, will show the solo piece Instable, conceived by the acrobat Nicolas Fraiseau and directed by Christophe Huysman.
A man hangs onto an almost invisible iron wire as it becomes unstable. To make up for this instability, the acrobat becomes an anchor point, working hard to find inner stability. He derives his power from fragility and the limits of the human condition, ultimately telling a story and reflecting not on instability, but on action.
trustarts.org
---
Instable
by Compagnie Les Hommes Penchés – Christophe Huysman
C'est pas là, C'est par là
by Compagnie Galmae – Juhyung Lee
Performance Spaces for the 21st Century, Chatham, NY
Both performances, Instable and C'est Pas Là, C'est Par Là, combine the avant-garde concepts of innovative space usage and audience participation, which has its roots in street theater, with the goal of pure enjoyment.
Instable by Les Hommes Penchés will take place in a location on PS21 property that will bring the audience into a delightful exploration of space, balance and challenges.
C'est Pas Là, C'est Par là by Compagnie Galmae is an installation and participatory performance that serves as a collective meditation on community and individuality. It will be part of the program PS21/Chatham Artways: Building Pathways for Enlivened Community and Culture.
Created by a Korean artist Galmae (Juhyung Lee), C'est pas là, c'est par là is a temporary public installation that explores the nature of crowd mentality and movement. It also brings people together through a meditative, unifying experience. ps21chatham.org
---
C'est Pas Là, C'est Par Là
by Compagnie Galmae – Juhyung Lee
Artpark &Company, Lewiston, NY
After PS21, Chatham, C'est Pas Là, C'est Par Là by Compagnie Galmae – Juhyung Lee will be presented on one of Artpark's unique "parking lots" with views of Niagara Gorge, Canada, highlighting the confluence of art, nature and culture and, ultimately, reaffirming Artpark's mission.
artpark.net
---
HOME
by Begat Theatre and Hand2Mouth, Portland, OR
Hand2Mouth(H2M), Portland's longest running theater ensemble, will present HOME, a new collaboration with the French street theater company Begat Theater, in partnership with the Alliance francaise of Portland and the organization Outside In, a social services provider for youth experiencing homelessness.
The new interactive performance will blend materials from interviews, cinematic sources and literary sources that focus on people experiencing homelessness and will take place in the city streets in the industrial core of Portland.
hand2mouththeatre.org
begat.org
---
Exit
by Cirque Inextremiste
Rochester Fringe Festival, Rochester, NY
The Rochester Fringe Festival, one of the largest and most successful fringe festivals in the United States will welcome the U.S. Premiere of "Exit" by the French company Cirque Inextremiste to the opening weekend of the Festival. With its stunning acrobatics, Cirque Inextremiste's aerial ballet hanging from a hot air balloon is expected to draw audiences of 20,000 or more.
rochesterfringe.com
2 | THEATER PRODUCTIONS
---
The Art of Theater
by Pascal Rambert, Structure Production, France/NY
Playwright and director Pascal Rambert will develop The Art of Theater in English with actor Jim Fletcher, along with the companion piece With My Own Hands at Performance Spaces for the 21st Century (PS21), Chatham. Both are planned to be presented at the Under the Radar Festival, New York, in January 2022.
The Art of Theater is a short manifesto in which an actor explains what the art of theater is to his dog, while With My Own Hands is a text about the human condition that Rambert adapts with the actor involved.
structureproduction.com
ps21chatham.org
---
Kazu
by Compagnie Singe Diesel
Puppets in the Green Mountains International Festival, Putney, VT
Sandglass Theater will present the puppet show Kazu by Compagnie Singe Diesel at the 11th Puppets in the Green Mountains international festival.
Singe Diesel, based in Brittany, is a puppet theatre company founded by the renowned theater artist Juan Perez Escala. At the crossroads of fantasy and wonder, Singe Diesel's work questions and challenges how we think about what is real and what is imaginary.
puppetsinthegreenmountains.net
singediesel.org
---
Letters to Nour
Written and directed by Rachid Benzine
FIAF – French Institute Alliance Française, New York, NY
FIAF will present the English-language premiere of Letters to Nour written and directed by Rachid Benzine. Through the exchange of letters, the production, adapted for theater by Benzine from his 2016 bestselling novel, tells the heart-wrenching story of a father grappling with the life choices of his daughter, who has left their home country to join her jihadist husband.
fiaf.org
---
Quake
A collaboration between Guy Régis Jr. and Kaneza Schaal
Henry Street Settlement / Abrons Arts Center, New York, NY
Abrons Art Center will develop Quake, a theater production directed by Kaneza Schaal with performers Gina Athena Ulysse and Cheyanne Williams. Quake is a new performance work based on the play When The Whole World Quakes by Haitian playwright Guy Regis Junior. The work, originally written in French and Creole, and now translated into English, addresses the parasitic nature of foreign aid provided to the Global South, which often comes with unreasonable conditions and hidden agendas. Through a poetic, abstract allegory, the play is a piercing critical analysis of foreign countries' involvement in the aftermath of the devastating 2010 earthquake in Haiti.
abronsartscenter.org
---
Appuie-toi sur moi by Cirquons Flex
Fractales by Compagnie Livertivore – Fanny Soriano
Peak Performances /Montclair State University Foundation
Peak Performances will present two French contemporary circus productions during its 2020-2021 season: Appuie-toi sur moi by Cirquons Flex, a company from Réunion Island, and Fractales by Compagnie Libertivore-Fanny Soriano.
Appuie-toi sur moi combines acrobatics and oral narrative in an intimate story of two protagonists, while, through the language of circus and dance, Fractales highlights physical potential within the metamorphosis of the nature and the environment.
peakperfs.org
---
MississipiS
by Duncan Evennou, The Lighthouse Company, France/Atlanta
French performer and director Duncan Evennou, along with the researcher Clémence Hallé, will develop and present MississipiS of the trilogy Matters at Atlanta's Georgia Institute of Technology and develop new research axes at Clark Atlanta University's Art Museum.
Matters I is an exploration of the archives of the inaugural meeting of the Anthropocene Working Group at the Haus der Kulturen der Welt (HKW) in Berlin in 2014; Matters 2 – renamed MississipiS — focuses on the Mississippi: An Anthropocene River, a research organized by Berlin's HKW that seeks to "understand the river as a composite and storied space".
---
Milieu & Alentour
by Renaud Herbin
La Mama, New York, NY
La MaMa Puppet festival will present French master puppeteer Renaud Herbin with his new production Milieu & Alentour, a metaphysical exploration of space and free will. Drawing inspiration from Samuel Beckett's story The Lost Ones, in which a crowd is trapped in a cylinder, Herbin re-examines the cylindrical setting as the home of an elaborate marionette, manipulated at a distance from above.
lamama.org
---
A City of Foxes
Nihaarika Negi and Studio Tamanoir
The Exponential Festival – Brick Theater, Brooklyn, NY
Brick Theater will present A City of Foxes, an intimate approach to immersive storytelling and theatre through VR, conceived by Tamanoir Studio, Paris and the interdisciplinary artist Nihaarika Negi.
Set across the landscape of a fantastical war that thrives on the persecution of foxes, the production will allow the audience to have an interactive encounter with a philosophical fox questioning notions of companionship and loss.
bricktheater.com
tamanoir.co
---
R.A.G.E.
Les Anges au Plafond – Camille Trouvé
Chicago International Puppet Theater Festival, Chicago, IL
By welcoming Compagnie les Anges au Plafond, the Chicago Puppet Festival advances its goal of elevating the art by placing nuanced and diverse examples of puppetry from the international scene under the spotlight in the U.S.
R.A.G.E. tells the story of a man who tells the truth through fiction and multiple identities. Compagnie les Anges au Plafond's production combines marionettes and magic, revealing the manipulation of an object without compromising the magical effect.
chicagopuppetfest.org
Contact
Nicole Birmann Bloom
Program Officer, Performing Arts
nicole.birmann@frenchculture.org