Overview
Oui Design, a program of the Cultural Services of the French Embassy and FACE Foundation, fosters creative exchange in design between France and the U.S.
During NYCxDESIGN, May 16-20, 2019, Oui Design presented its fourth edition with two sets of collaborative projects in partnership with WantedDesign Brooklyn, exploring new methods of production at the intersection of design, art and craft: Transatlantic Creative Exchange and Design Education. Both programs bring together designers from France and the US to explore new methods and to create new work.
Through programs that encourage transatlantic collaboration with designers, artists, and manufacturers, Oui Design aims to enrich the sector by facilitating the transmission of knowledge and techniques as well as economic ties between the design industries on both sides of the Atlantic. It also brings French creatives to the United States to exhibit their work and to engage with industry professionals and the public at large.
Transatlantic Creative Exchange
Initiated in 2016 by the Cultural Services of the French Embassy, Transatlantic Creative Exchange is a program that pairs French and American designers and manufacturers to explore new techniques and innovate boldly as a unified transatlantic design team. The designer/manufacturer duos are selected based on overlapping interests, geographic diversity and desire to engage in creative collaboration.
The following is a list of designer-manufacturer duos:
• Elyse Graham and CIAV Meisenthal
• Philippe Nigro and Corning Museum of Glass, Glass Lab
• Rodolfo Agrella and Procédés Chenel
• Guillaume Delvigne and Neal Feay
French Design Schools Collaborations
In 2019 Oui Design included the participation of four French design schools, Strate School of Design, Ecole Boulle, ENSAD (Ecole Nationale Supérieure des Arts Décoratifs), and ENSCI Les Ateliers. Five students and one teacher from each school will be part of WantedDesign as part of Oui Design during NYCxDESIGN. While in New York, they will participate in workshops and exhibit their work at WantedDesign Brooklyn.
• Students from Strate School of Design and Ecole Boulle will participate in the WantedDesign Schools Workshop.
• Students from ENSAD (Ecole Nationale Supérieure des Arts Décoratifs) and ENSCI Les Ateliers (partnership with Alessi) will exhibit their work at WantedDesign Brooklyn.
Game ChangeHer
In partnership with WantedDesign, Eyes on Talents combines its prescriptive vision on creative talents to present Game ChangHer NYC. A poetic and sensitive exhibition, highlighting the creations signed by key women-designers, all selected between France and the United States. Game ChangHer NYC will present the work of Lani Adeoye, Nina Cho, Pauline Deltour, Claire Lavabre, Inès Le Bihan, Nao Tamura, Marie Victoire Winckler.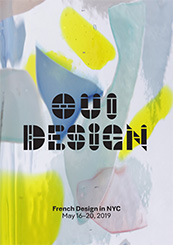 Partners & Sponsors
Oui Design is supported by Institut français-Paris, the French Ministry of Culture, and the Florence Gould Foundation.
Additional support for Game ChangHer has been provided by CHANEL Fund for Women in the Arts and Culture. Additional support for WantedDesign projects has been provided by XL Airways.
Oui Design logo by Antoine et Manuel.
Contact
Anne-Claire Duprat
Program Officer, Visual Arts, Architecture, Design (French Embassy)
anne-claire.duprat@diplomatie.gouv.fr