Projects in the United States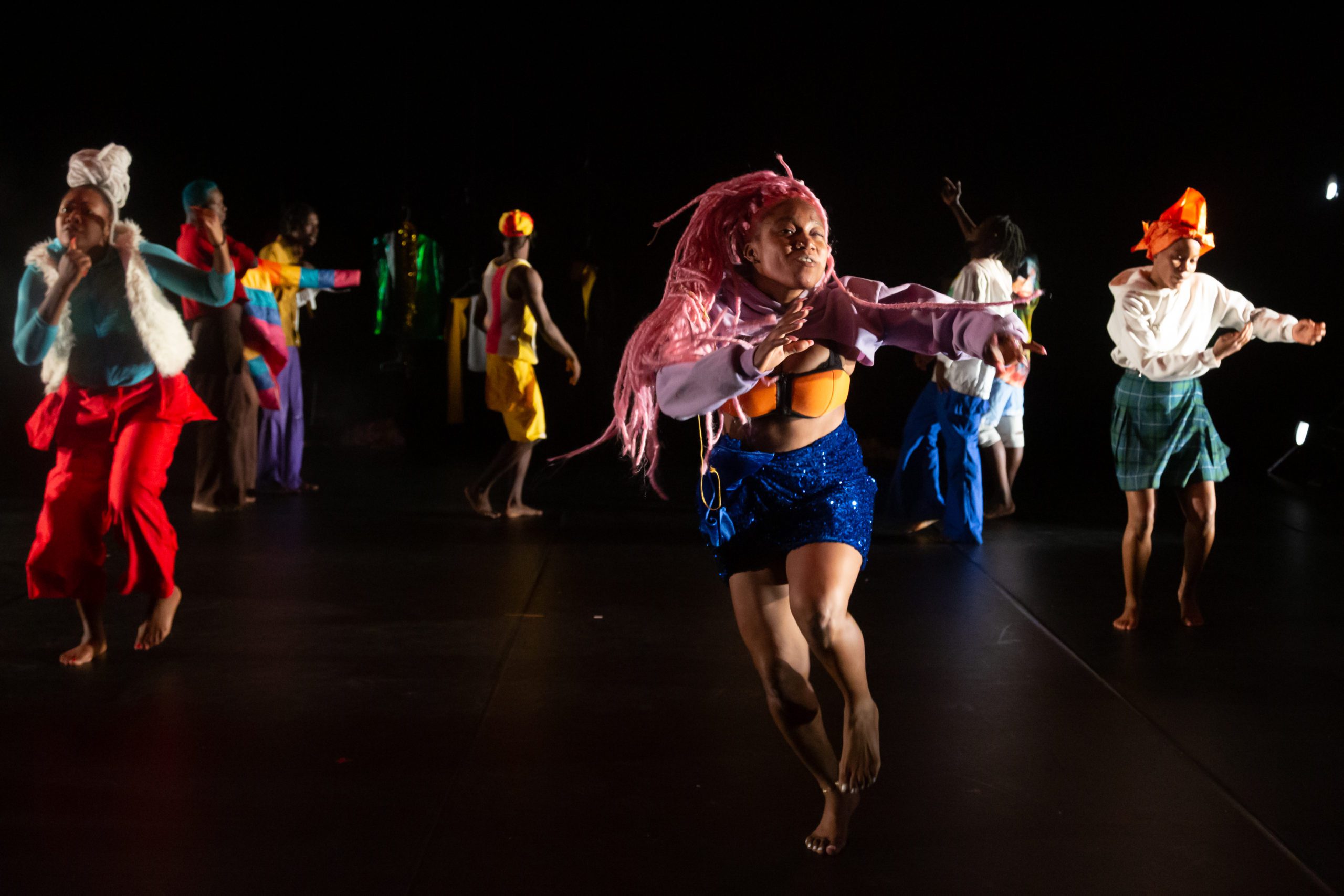 Re:Incarnation
Qudus Onikeku – Q Dance
PS21: Performance Spaces for the 21st Century
June 2022
QDance Company's Re:Incarnation will launch PS21's 2022 season of international contemporary dance, opera, theater and music with the opening night performance on June 3rd, an additional performance on June 4th, and a week-long community-oriented residency.
Qudus Onikeku's performance Re:Incarnation is a dance, music, fashion and visual arts creation showcasing the depth of ancient Yoruba philosophy as it mingles with current Nigerian youth culture. Choreographed within a highly musical structure combined with an intricate and carefully designed visual aesthetic, Re:Incarnation is the result of six years of research on body memory undertaken by Onikeku, the members of QDance, and young cultural leaders and dancers of Nigeria, during which they immersed themselves in the creative energy of Lagos. It showcases the depth of the current Nigerian youth culture with its pure and uncompromising joy. At the core of the composition Re:Incarnation is the Yoruba concept of reincarnation and its distinctly cyclical way of perceiving time.
---
Anopas
Compagnie Art Move Concept – Soria Rem and Mehdi Ouachek
Artpark & Company, Inc., Levinston, NY
July 2022
As part of a larger tour, Artpark will present two performances of Anopas by the French hip hop company, Art Move Concept on July 22 and 23.
Soria Rem and Mehdi Ouachek, founders of the company, sign their most personal show with Anopas, a tribute to the artists. They deliver their own anecdotes mixing their Hip-Hop roots with the fluidity of contemporary dance, including the circus arts. Inspired by Buster Keaton and Charlie Chaplin, they share with humor or with melancholy, the difficulties and the joys of the artistic journey.
During their time in the area, the company will also participate in workshops working with Artpark's Devised Performance Institute, a summer learning institute that brings together cutting edge international companies with participants interested in an intensive study of physical creation.
In the meantime, Art Move Concept, will make its US debut with their latest opus, Anopas, in three New York venues: SummerStage in Central Park (July 13) and PS21 Chatham (July 15).
---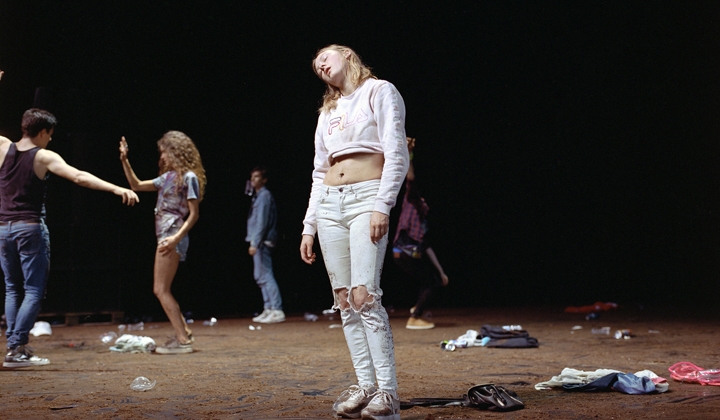 Crowd
Gisèle Vienne
Dance Downtown LA, Inc DBA: L.A. Dance Project – Los Angeles, CA
October 2022
L.A. Dance Project (LADP) with Van Cleef & Arpels will present Gisèle Vienne's Crowd in a shared bill with LADP's Artistic Director Benjamin Millepied at its space in Los Angeles in October 2022. Inspired by rave culture, Crowd is a party where community is built and individual stories emerge inside of the group as the dancers, a group of 15, collectively search for moments of euphoria. LADP and Van Cleef & Arpels conceived of the idea to present Crowd in LADP's outdoor parking lot which is in an industrial area of Los Angeles, a curatorial choice in relation with the gritty feel of Crowd.
---
Repertory Works: Miguel Guiterrez / Peter Jacobsson / Thomas Caley
Centre Choréographique National – Ballet de Lorraine Nancy, France
NYU Skirball, New York
April 2023
Invited by NYU Skirball, New York, the Ballet de Lorraine, from Nancy, will performed two pieces of its repertory: For four Walls by Petter Jacobsson and Thomas Caley with the music of John Cage performed in live by Vanessa Wagner and This is concern all of us by American choreographer Miguel Gutierrez, as a "clin d'oeil" to the choreographer Merce Cunningham.
A tour is at present in construction.
---
L'Onde
Compagnie Nacera Belaza
Walker Art Center, Minneapolis, MN
Contemporary Art Center (CAC), Cincinnati, OH
The Walker Art Center and CAC Cincinnati will present in 2023, the latest work L'Onde by French-Algerian choreographer Nacera Belaza and her company, touring for the first time to the upper Midwest (April 19-23, in Cincinnati as part of CAC This Time Tomorrow Festival, and then April 27-29, 2023, in Minneapolis)
Continuing the journey embarked upon in her preceding pieces, Nacera Belaza explores, with L'Onde, the repetition and the ritual, and raises the question how repetition enable us to connect with the inner self as well as to espouse infinity.
---
Room with a View
(LA)HORDE – Ballet de Marseille
NYU Skirball
Fall 2023
American Premiere for the collective (LA)HORDE now at the head of the Ballet de Marseille – National Choreographic Center, in Marseille.
In a marble quarry where various machines are in action, cutting and polishing the rock, the electronic musician and producer Rone creates with his music, a sweeping emotional landscape for the 20 dancers of the Ballet National de Marseille – (LA)HORDE. While sculptors worked with marble to "free the human form inside the block", the performers dance to escape the stones' white immobility, rising up to scrutinize the infinitely human contours of impending disaster and envisaging the very possibility of its beauty.
---
Water and Power
Dimitri Chamblas and Kim Gordon
Los Angeles, CA / Paris, France
Season 2022-2023
In 2018 musician/songwriter/visual artist Kim Gordon and Dimitri Chamblas started a collaboration through a performed duet where both were dancers, performers, and musicians, breaking the boundaries using their bodies, the guitars and the microphones. From a mutual desire to continue their collaboration, Water and Power is a show that experiences the relation between dancing bodies and electric guitars on a larger scale for 12 performers.
---
Projects in France
State of
Gerard & Kelly
Carré d'Art – Musée d'Art Contemporain Nimes, France
December 2022
Gerard & Kelly's performance State of will be presented as part of in a larger exhibition of the duo that will run from fall 2022 to spring 2023 at the contemporary art center, Carré d'Art, in Nimes.
State of floats the question of American identity through various citations and transformations of the U.S. flag and the national anthem. Moving on and off the pole; boosting, raising and resting the flag; and singing and re-singing the national anthem, three dancers interrogate symbols of nationalism, emptying them of their violence and exploring how they might be reclaimed today. With the collaboration of Rio Uribe of Gypsy Sport for the costume design, State of features FortySmooth — a longtime collaborator with Gerard & Kelly and one of the innovators of subway pole riding, a dance form that emerged from breakdance and hip hop culture in the New York City subways in the 2010s. Also featured in the cast is dancer and musician Quenton Stuckey, who performs under the alias An Only Child.
Contact
Nicole Birmann Bloom
Program Officer, Performing Arts
nicole.birmann-bloom@villa-albertine.org