Grants for Artistic Projects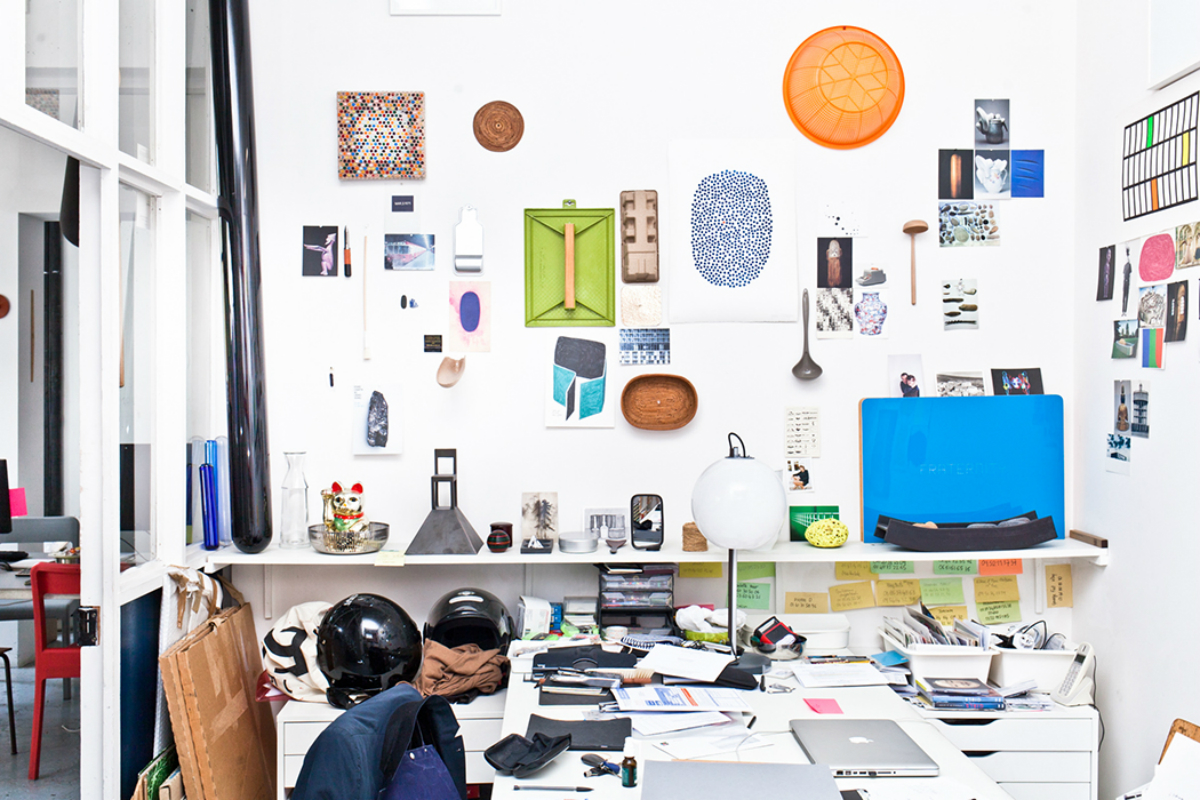 Spaces of the Mind
Group show with Pierre Charpin
Noguchi Museum, NYC
February to June, 2021
Curated by Dakin Hart
Spaces of the Mind is an artistic exhibition that explores the role of small spaces as portals to larger universes – a symbol of the expansive space inside an artist's mind. It presents this dualism of artwork as both self-contained and representative of a greater world through four small spaces, each of which serves as a unique portal. These microcosmic projects are created by practitioners from around the world — Pierre Charpin, Paula Hayes, Takeshiro Matsuura, and Laurie Spiegel — and represent different fields of expertise. They will be installed near a permanent installation of Noguchi's large stone sculptures.
A central element of the exhibition will be Walls of Pierre Charpin's Studio, by Pierre Charpin (b. 1962), a French designer and visual artist based in Paris. In one of the museum's galleries, he will install a version of his studio walls, as well as meaningful objects that he has kept for decades, new items that inspire him, and personal sketches and projects. Walls of Pierre Charpin's Studio will function as a site-specific installation that represents a simulation of Charpin's rich thought process, giving visitors a chance to enter his studio and, by extension, his brain.
---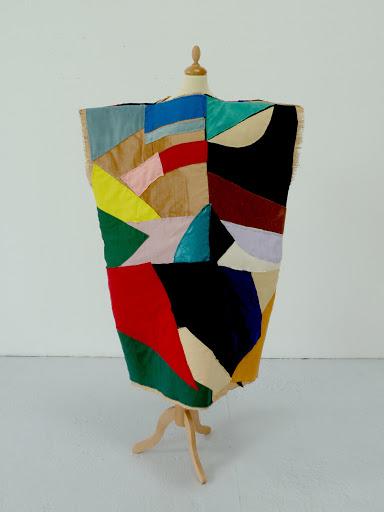 Garmenting: Costume and Contemporary Art
Group show with Karina Bisch, Rafael Barontini, Cécile Bome, Louise Bourgeois, Annette Messager
Museum of Art and Design, NYC
September 17, 2020 to February 26, 2021
Curated by Alexandra Schwartz
This exhibition chronicles contemporary art's engagement with costume and how visual artists use garments to examine issues of identity, sexuality, and the body. This phenomenon may be identified by the term garmenting, or creating art for installations in the form of garments.
Garmenting examines work by thirty international artists, who engage with costume yet fit into the category of visual artists. Among them are 5 French artists – both established names and emerging voices. The show will be organized around five interrelated themes. The first explores how gender and sexuality are exhibited through dress, beginning with artists from the 1960s who introduced garmenting into their visual arts practices, and continuing with artists who were influenced by second- and third-wave feminism. The second theme focuses on activism, examining how artists have used garments as agitprop and symbols of political violence's effects on individual bodies. The third centers on works that explore the relationship between costume and cultural identities, particularly within the context of post-colonial and transnational discourses. Next, the fourth deals with issues of functionality, showcasing works that blur the line between art and fashion and question traditional divisions between disciplines. Finally, the fifth features artwork that doubles as costumes in live and videotaped performances and will include a fully integrated series of live events at MAD. Garmenting as a formal trope has various significations, and its current ubiquity testifies to many contemporary artists' desire not only to upend distinctions between the "fine" and "applied" arts, but also to root their practices in a fundamental aspect of human life: the physical body and the clothing that adorns and protects it.
---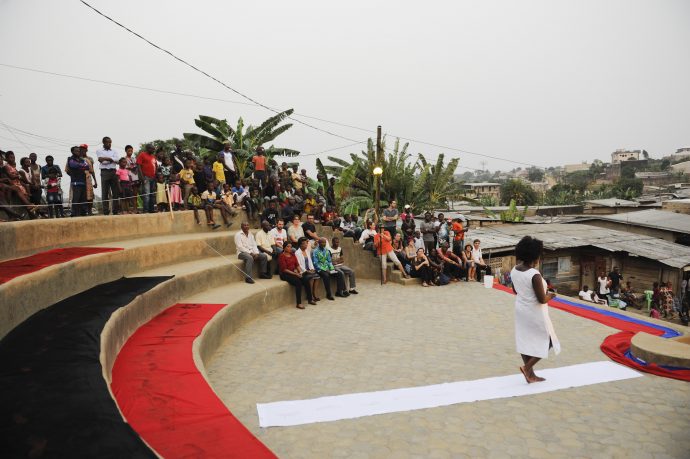 Screening and Installation of Video Works by Michele Magema
Solo project
Aurora Picture Show, Houston
February 2021
Curated by Mary Magsamen
The Aurora Picture Show will present a one-night screening with the Congolese-French artist Michèle Magema. The screening, which will include 8 to 10 short video works, will focus on Magema's unique perspective as an African female artist with a cultural heritage from both the Democratic Republic of the Congo and France.
Following the screening, a discussion will be led by Raymond Gnanwo Hounfodji, a PhD in Francophone and African Literature and a Lecturer of French at the University of Houston who specializes in African and post/colonial literature and theater, as well as oral literature.
---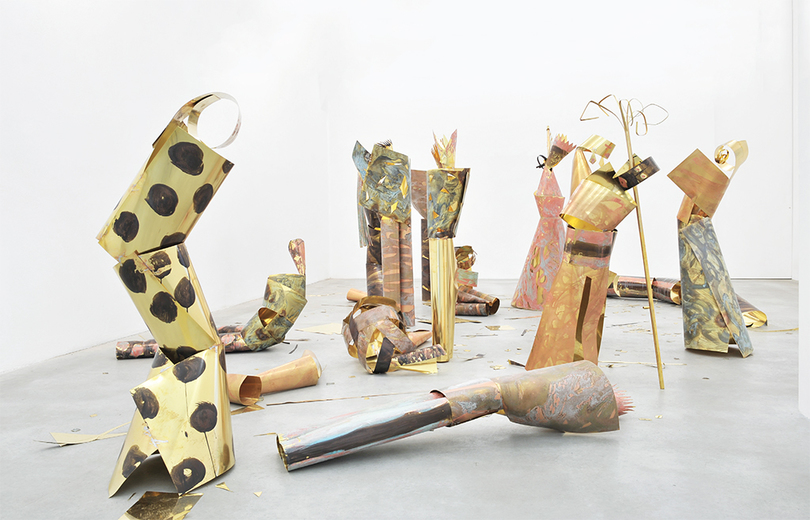 Caroline Mesquita: l'amour à la machine
Solo show
Blaffer Art Museum, Houston
June – October 2021
Curated by Steven Matijcio
Young French artist Caroline Mesquita has recently met remarkable international success: She has had solo exhibitions at the Galeria Municipal do Porto, the Kunsthalle Lissabon, and the Centre Pompidou and was awarded the prestigious 19th Fondation d'entreprise Ricard Prize in 2017.
Caroline Mesquita is a sculptor and video artist who mainly works with metal. She creates radically imaginative sculptures of airplanes, spaceships and motorcycles, with raw material inspiring her to engage with notions of science fiction, religion, embodiment, transformation, sensuality, and sociability. Mesquita's works are darkened, patinated, and roughly textured through an oxidation process. With this technique, Mesquita manipulates metal as if she were painting. These material transformations are the medium through which she tells stories about the human experience and action and exchange in relationships. She also creates videos, sonic environments and performative films, in which she herself appears, either around or using her metallic creations.
During a formative road trip across the southwestern United States, Mesquita observed the effect of copper mining and how the coveted material is extracted from the earth. Seeing the "surreal red mountains" these mines produced created a searing ambivalence for her as she reached her ultimate destination: Marfa, Texas. To continue exploring the relationship between majesty and monstrosity, natural and manmade, she will produce a newly commissioned, site-specific installation in 2021, at the Blaffer Art Museum in Texas.
Caroline Mesquita (b. 1989, Brest) lives and works in Marseille.
---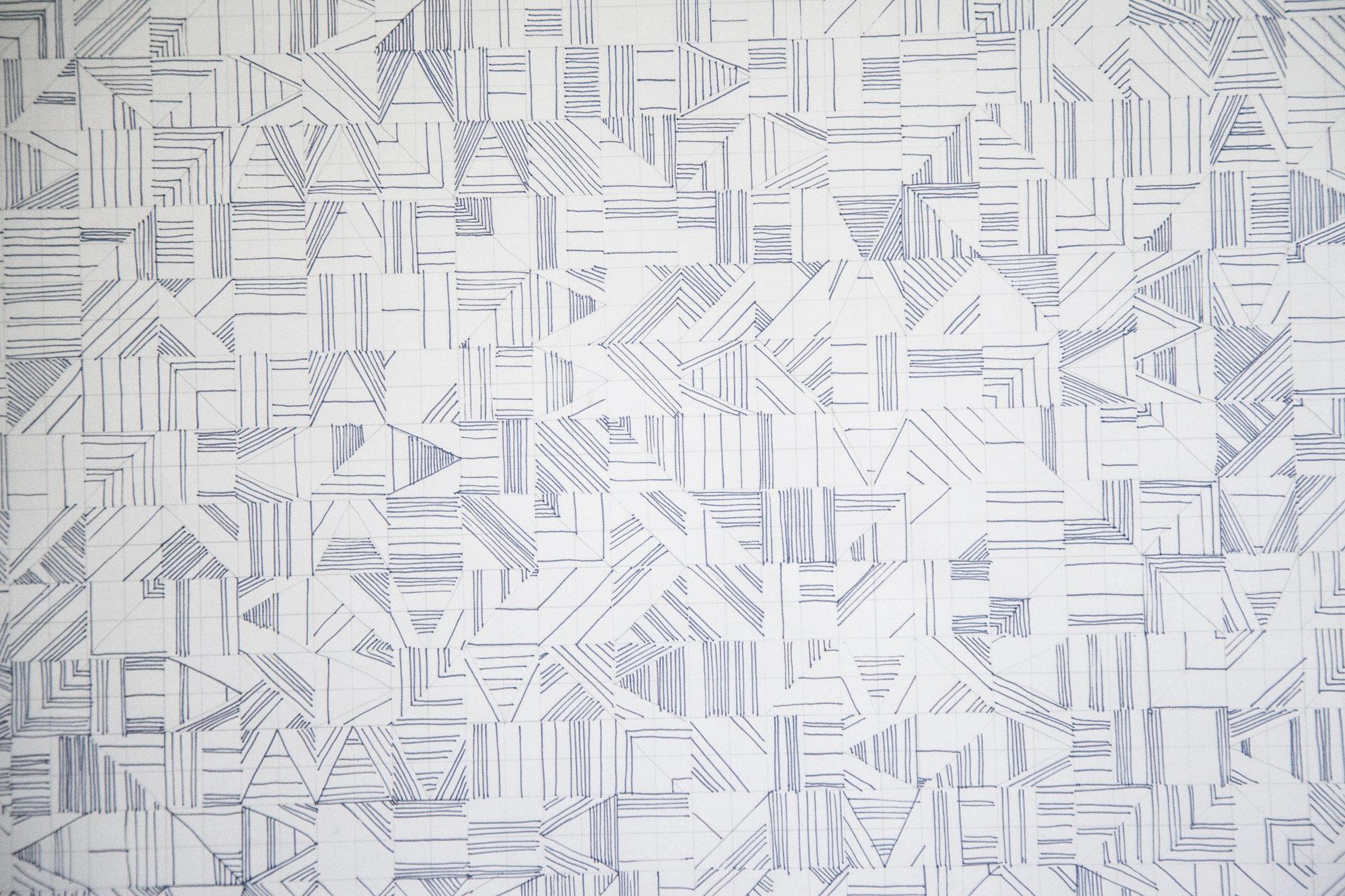 Vera Molnar: Variations
Solo show
Beall Center for Art and Technology – University of California, Irvine
October 5, 2020 – February 1, 2021
Curated by David Familian
This exhibition will examine Molnar's art, ranging from her non-computational work to her early computer-generated drawings to more recent work that makes use of other media.
Vera Molnar, born in 1924 in Hungary, is a pioneer in the field of computational and algorithmic arts. As early as 1959, she began iterating combinatorial images, and, in 1968, she began working with computers, through which she created algorithmic paintings based on simple geometric shapes and geometrical themes.
The non-computational works include Molnar's earliest experiments with chance operations, such as Interruption – Continuation (1961) and a series started after her visit to the Honeywell Bull Lab called Machine Imaginaire [Imaginary], which includes the work Trame De 81 Quadrilatères À La Machine Imaginaire [Quadrilateral 81 Frames In The Imaginary Machine] (1967).
The exhibition will also include multiple iterations of Molnar's hand-made collages, paintings, installations, limited edition books and multiples.
---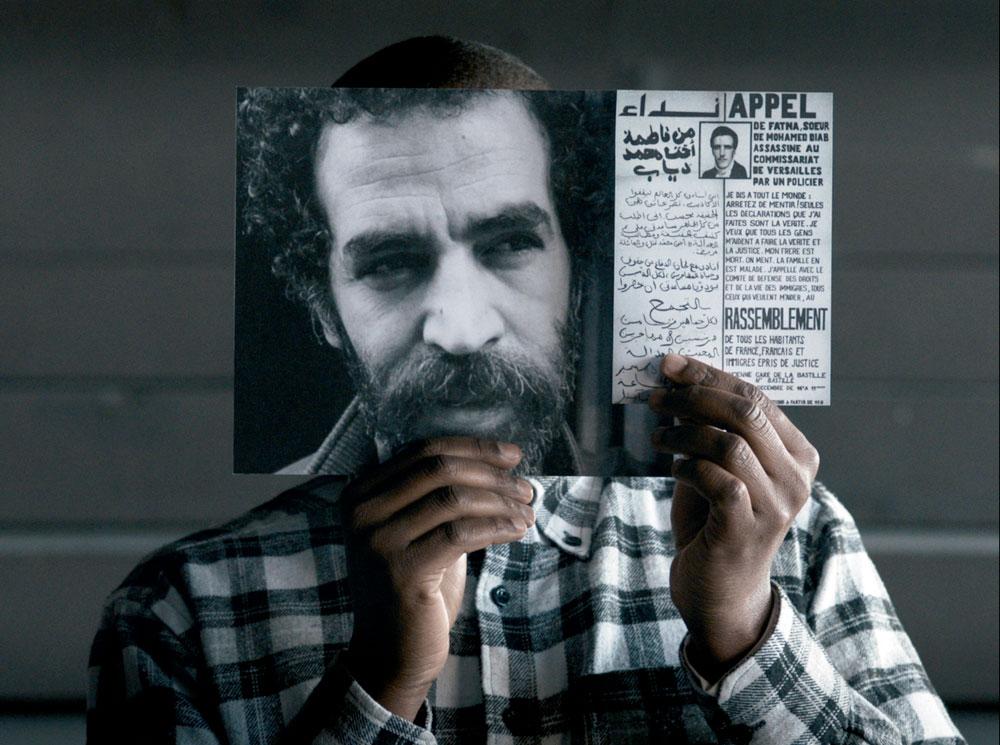 Witch Hunt
Group show with Bouchra Khalili
Hammer Museum, Los Angeles
October 4, 2020 – January 10, 2021
Curated by Connie Butler
The exhibition will showcase the work of 15 midcareer artists working in a range of disciplines (sculpture, installation, painting, video, and performance), including the French-Moroccan artist Bouchra Khalili.
Witch Hunt will offer a strong feminist perspective— spanning race, class, religion, ethnicity, and geography—and encourage dialogue about some of today's most urgent issues, ranging from violence against women and transgender people to the right to free speech and protest in a democratic society.
Bouchra Khalili will present The Magic Lantern Project, a new installation that takes the lost and forgotten work of the radical, feminist Swiss filmmaker Carole Roussopoulos (b. 1945) as its starting point, including her internationalist videos on Jordan, the Black Panther party, and Algiers. Stemming from Khalili's ongoing research in Roussopoulos' archive, her project will reactivate and resuscitate the ghosts still haunting those lost tapes. The installation will feature a rich mix of 26 silk screen prints juxtaposed with edited archival footage of Roussopoulos' films projected onto a large-scale magic lantern sculpture (one of the first pieces of projecting equipment). Together, these elements will convey a meditation on media as a nomadic and dissident form of witnessing, as well as a poignant history of migrations throughout time.
The exhibition will powerfully convey how feminist ideologies in art can meaningfully contribute to debates and reinforce the role that artists play in rendering the challenges we face as a society more visible. In our pivotal cultural and political moment, Witch Hunt—along with the accompanying catalogue and public programs—will provide an unprecedented forum for audiences to engage with female artists who are using their practice to explore questions of inequality and the erasure of feminist histories.
---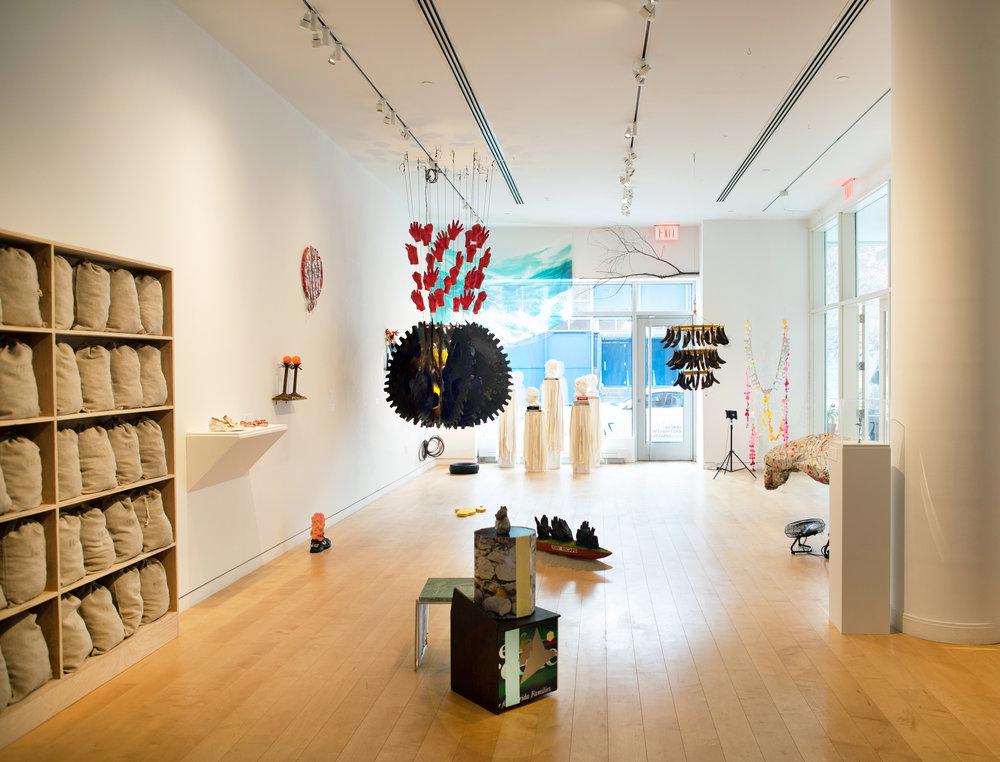 Dust Specks on the Sea: Contemporary Sculpture from the French Caribbean & Haiti – Touring show
Group show with: Mathieu Kleyebe Abonnenc, Julie Bessard, Hervé Beuze, Jean-François Boclé, Alex Burke, Vladimir Cybil Charlier, Gaëlle Choisne, Ronald Cyrille, Jean-Ulrick Désert, Kenny Dunkan, Edouard Duval-Carrié, Adler Guerrier, Jean-Marc Hunt, Fabiola Jean-Louis, Nathalie Leroy-Fiévée, Audry, Liseron-Monfils, Louisa Marajo, Ricardo Ozier-Lafontaine, Jérémie Paul, Marielle Plaisir, Tabita Rezaire, Yoan Sorin, Raphael Barontini, Sylvia Berté, Vickie Pierre, Michelle Lisa Polissant, and Kira Tippenhauer.
Hunter East Harlem Gallery
516 Arts, Albuquerque
Loyola Marymount University, Los Angeles
Touring from June 2020 to December 2020
Curated by Arden Sherman
Initially presented at the East Harlem Hunter College from Nov 2018 to March 2019, the touring show Dust Specks on the Sea focuses on sculptural works by over twenty contemporary artists from Guadeloupe, Martinique, French Guiana, and Haiti and addresses the various postcolonial conditions of the Caribbean region. The exhibition's title—Dust Specks on the Sea—is derived from a 1964 quote by former French President Charles de Gaulle, in which he expressed his outlook on the French Caribbean islands while on an airplane. His statement speaks to the otherworldly, mysterious quality of an aerial view of the Caribbean archipelago, while also calling into question a deep-seated hierarchical perspective that stems from France's history as a powerful colonizing force in the Caribbean. In 1902, the eruption of the volcano Mount Pelée on the island of Martinique destroyed the town of Saint-Pierre, killing approximately 30,000 people in a matter of minutes. Poignant photographic images of the "worst volcanic disaster of the early 20th century" show the volcano's dusty smoke looming above the sparkling waters of the Caribbean; these visual documents allude to the complex and loaded sentiments of de Gaulle's quote—the duality of perspective. The French Caribbean can neither be defined solely by its beauty nor its historical trauma. This exhibition aims to contribute to a contemporary, multi-layered understanding of this region. The title is used as a tool to challenge the perception that this region and its artwork are mere specks of dust on the world stage. The landscape of Dust Specks on the Sea transcends "Caribbean" categorization and showcases artists' subjectivities as complex and rich, expanding beyond preconceived ideas of what art from this region looks like and what subjects it can address.
Presented in spring 2020 in Miami at the Little Haiti Cultural Complex's gallery in the neighborhood of Little Haiti, a town known for welcoming many Caribbean immigrants and historically acting as a home to displaced peoples, the show will tour in New Mexico and California in 2020 in galleries linked to universities.
Curatorial Fellowships
Collecting Digital Art: Institutional Precursors in France at the Turn of the Millennium, a Case Study
Selby Nimrod
Assistant Curator
MIT List Visual Arts Center, Cambridge
What does it mean to preserve and present so-called "born digital" artworks, like Net.Art? What are the existing institutional models for access? How is the digital institutionalized? And how do the epistemic and "material" premises of digital artworks rub up against the structures and ideological formations (both implicit and explicit) of the "public collection"? What insight can the close study and interpretation of thematic and conceptual underpinnings and the analysis of the specific medium of Net.Art works reveal about these questions? How might the obsolescence and narrative open-endedness that are posed by the web browser as a medium support the production of clandestine knowledge and alternative epistemologies, particularly in relation to feminist applications of technology?
These are the preliminary inquiries that will guide the research that would be undertaken during the summer and fall of 2020 in the Bourgogne-Franche-Comté region of France, by consulting the remarkable collection of Espace Multimédia Gantner, both a living public collection and an archival repository of digital art.
---
Frac Bretagne – Art Norac Award
Mackenzie Stevens
Director
Visual Arts Center, University of Texas, Austin
The purpose of this research trip is twofold: 1) to work with Frac Bretagne in support of the Art Norac award and develop awareness about the VAC's residency program in France; 2) to meet with artists and colleagues and visit institutions and residencies in Rennes, Paris, and Marseille.
The FRAC Bretagne – Art Norac Award is a new undertaking created by the FRAC director, Etienne Bernard, in partnership with MacKenzie Stevens. The prize will be presented to an artist living and working in the Brittany region of France. Shortlisted artists will display their work at the FRAC Bretagne from fall 2020 through the winter, and the winner will have a solo exhibition of his/her work at the Visual Arts Center (VAC) at UT Austin in spring 2021. The exhibition will be accompanied by an illustrated exhibition brochure with an essay co-authored by Etienne Bernard and MacKenzie Stevens. The artist will also present his/her work in a public program, in the form of an artist talk, a seminar with students, and/or another type of program that is relevant to his/her practice and the work on view at the Visual Arts Center. The project will be an incredible professionalization opportunity for a French artist, allowing him/her to exhibit work at the flagship campus of the University of Texas, and it will offer students, faculty, and staff at UT Austin an opportunity to engage with the broader contemporary art world.
The Visual Arts Center is the first institution to collaborate with FRAC Bretagne in the United States. This groundbreaking initiative marks an important beginning for further exchange, dialogues, and partnerships between the Visual Arts Center and peer institutions within France, including FRAC Bretagne. UT Austin has a vibrant and rich community of American and international faculty members and students who will benefit from the presence of international artists on campus. The FRAC Bretagne – Art Norac prize winner will be embedded within the campus' community: She/he will engage with students and faculty during the installation and afterward through the accompanying public programs and will liaise with other curators and artistic professionals residing in greater Austin. UT Austin is home to the France-UT Institute for Interdisciplinary Studies, recognized as one of fourteen interdisciplinary centers at American universities. The VAC will partner with the institute to design programming and opportunities for UT students, faculty, and staff, as well as residents of greater Austin, to engage with the artist and his/her exhibited work.
In addition to working closely with colleagues at FRAC Bretagne on the prize and planning for the exhibition of the Art Norac awardee at the Visual Arts Center, Stevens McKenzie will explore further possibilities for French/American partnerships and will learn more about residency programs for French artists during her research trip. The VAC has a robust exhibition and residency but still wishes to expand these programs to include more international artists. Thus, visits to peer institutions and meetings with colleagues in other countries are of fundamental importance.
---
The Politics of Freedom: Claude Cahun and Bouchra Khalili
Dean Daderko
Curator

This research project pursues ongoing investigation into the archives of Claude Cahun and Marcel Moore's artwork and ephemera in Nantes, France and the Isle of Jersey and includes an interview the Moroccan-French visual artist Bouchra Khalili in Paris. This work will help Dean Daderko collect material for his exhibition Traces: Art, Politics, and Resistance.
The exhibition considers how artists working across a variety of periods and places have responded to the sociopolitical interests and concerns of their times. From Claude Cahun and Marcel Moore's brave and valiant anti-fascist efforts undertaken on the Isle of Jersey in the 1940s to Artur Barrio's criticism of the Fifth Brazilian Republic's brutal dictatorship, this exhibition will look at how artists across the world have responded to repressive regimes with inventive wit and a subversive spirit. Traces will consider the recent past via Gregg Bordowitz's art and activism in New York in the face of the 1980s AIDS epidemic. Turning towards the present, it will consider videos and photographic work by Bouchra Khalili that give form to narratives of individuals' displacement across Africa, the Middle East, and Europe.
---
Research on Michele Magema
Mary Magsamen
Curator
Aurora Picture Show, Houston
The FACE Curatorial Fellowship will support Mary Magsamen as she researches and develops a project with the French-Congolese artist Michèle Magema and conducts general film scouting and research at the Light Cone film center and Clermont Film Festival, both based in France.
Magema's work is complimentary to Magsamen's research on women who use film and video to share personal stories, placing themselves in vulnerable positions. With the help of the grant, Magsamen will travel to Magema's studio to learn more about her work. She will also conduct an interview with the artist that will be published and included in the screening as a handout for attendees.
Visiting Light Cone's Documentation Center will give Magsamen an opportunity to explore its archive and learn about contemporary French and European filmmakers, just as the Clermont Film Festival will give her access to works she would not otherwise be able to see or consider for programming at Aurora Picture Show.
Etant donnés Residencies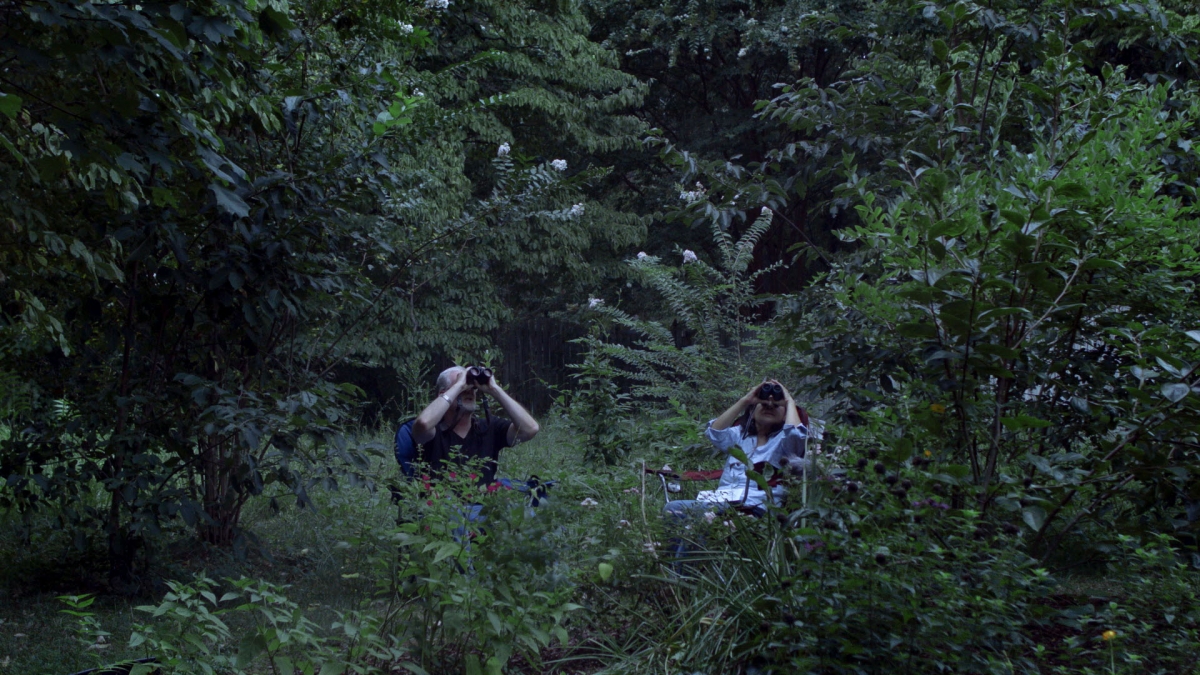 The Targets
Simon Ripoll-Hurier
In partnership with Kadist, San Francisco
Summer 2020
A project in collaboration with artist Myriam Lefkowitz.
The purpose of Simon Ripoll-Hurier's residency is to film the movie Targets, which takes place entirely in the San Francisco Bay Area. It will be constructed by and around remote viewing, exploring the poetic and cinematographic potential of this practice, while telling the story of a group of amateur remote viewers who got together after the declassification of the CIA archives at the turn of the century.
In the heart of the Silicon Valley in the 1970s, under the aegis of the CIA, a group of scientists, members of the military, and psychics developed a parapsychological technique that helps people channel their "extrasensory perceptions" to produce descriptions of distant targets — remote viewing.
Alone in a closed room and equipped with paper and a pen, the viewer follows a protocol to organize his mental images, sensations, and impressions. He focuses on a target that has been chosen for him but of which he is not aware. Blindly, he adds up descriptors, bits of text, adjectives, and diagrams, gradually building up an image that is then compared to the chosen target.
These experiments were carried out at SRI International, an emblematic institution that was the birthplace of Arpanet, the mouse, the graphic environment, Siri, and more. If the Silicon Valley is the place that shaped the fantasy of the cloud, through which all information is available everywhere, all the time, then remote viewing is an element of the historical and theoretical background that created these new superpowers.
Built around this underground connection, The Targets hopes to exploit a weird remnant of the Cold War to question today's technological superpowers.
In other words: What would happen if people used these occult CIA experiments to spy on their hidden heirs and to try to look through the "iron curtain" of the Silicon Valley?
---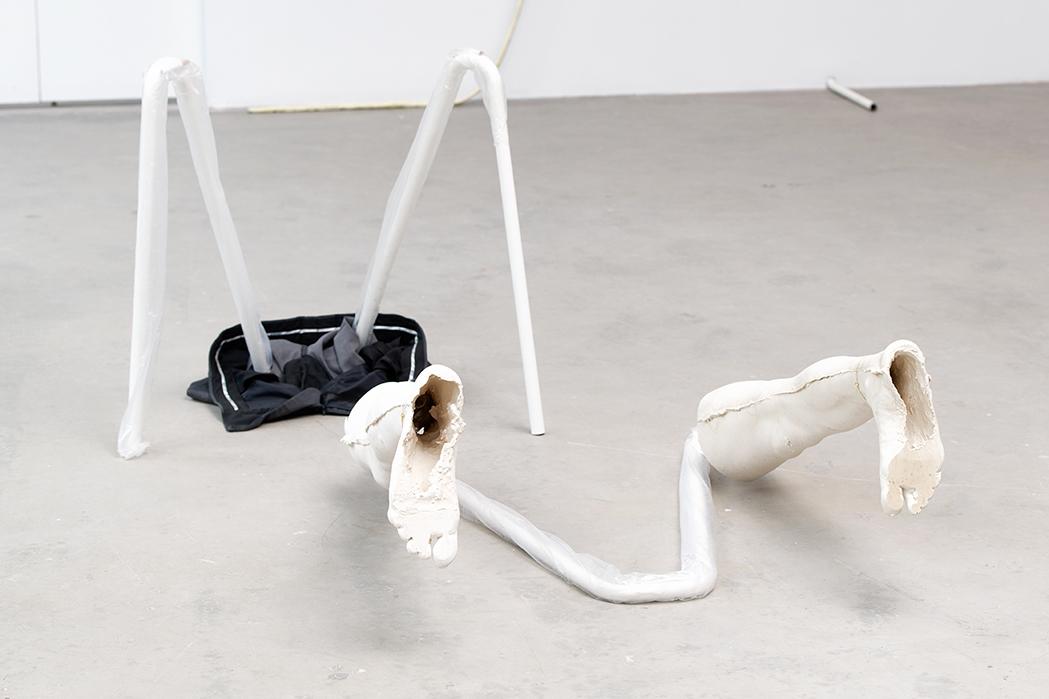 Corporeal Commons
Jean-Charles de Quillacq
In partnership with the Coalesce Center for Biological Art, University at Buffalo, and the Bemis Art Center, Omaha
October 10 to December 10, 2020 and February 01 to March 31, 2021
Thanks to this two-part residency, Jean-Charles de Quillacq will develop his thoughts on corporeal substances and secretions, especially sweat. Happening at a pivotal moment in his artistic trajectory, the residency is an opportunity to imagine surprising new perspectives, to deepen an essential part of his research, and to dare to take a truly transformational, unexpected sidestep.
The second stage of the research will take place in early 2021, at the Bemis Center for Contemporary Arts in Omaha, during a two-month residency consisting of experimentation with various sculpting materials, techniques, and protocols and tests of various installation strategies.
While De Quillacq is interested in all corporeal substances and secretions, he is particularly interested in perspiration because it is concentrated in the body's most permeable zones, while being secreted within the skin of almost the entire body of all humans, regardless of sex. It is common to all genders, to all identities. It is also the visible manifestation of our reactions to both internal and external factors, highlighting the porosity of our bodies and presenting them as filters, penetrated in two directions. The image of a filter led him to a form akin to those he has been producing for a long time, almost mechanically: Using the simple and repetitive gestures of tubes or organs that constitute conduits, like real pipelines, of fluids of an uncertain nature. Self As Tube: "Human beings are tubes. From a strictly physical point of view, we are dark, humid, coiled tubes with openings at the ends." Fever, internal injuries, infections, intense emotions or stress, the confined atmosphere of the subway and heatwaves trigger the same processes and reactions in all of our bodies. With global warming, these shared processes and reactions take on an imminently collective, even generalized dimension. Sweating thermoregulates our bodies, lowering their temperature through humidification. Perspiration plays the same role as the cremaster muscle when it relaxes, allowing the testicles to lower and cool down to ensure the production of sperm. Matthew Barney titled his films, The Cremaster Cycle, after this muscle. Some sweat-producing glands—those under the armpits, around the anus and nipples, for example—are activated at the onset of puberty by the hormonal system. They are therefore part of our sexual attributes. It has been said that deep human attraction is often triggered by our scents. Thus, bacteria is intimately linked to our sexuality because it gives perspiration its scent, our smell. A human and non-human aroma since our bodies contain many more bacterial cells than human ones. Sweat is mainly made up of water and salt but also contains plasma, lactic acid, urine, toxins—including lead and mercury—and plastic. These elements bring De Quillacq back to the material of his work, the evocation of toxicological poems that de-hierarchize realms and genres. He believes that the phenomenon of perspiration and the substances of sweat manifest themselves to our senses and consciousness in many places today, both physically and psychologically. Sweating, as one of the signs of our times, is to become the subject of his study: he will explore its realities, processes, and materials during his residency in two phases.
At the Coalesce Center for Biological Art in Buffalo, New York: Focusing on different dimensions of sweat (chemical, physiological, and legal), he will work to develop and fabricate artificial liquids that synthesize his own perspiration, growing bacteria associated with certain odors and/or designing fermentation systems for these bacteria. One of the objectives of his first research phase is to find a way to develop and maintain synthetic sweat, a perfume or watery liquid, and to test its interactions with different materials under variable conditions. By extension, he will also research the deodorant industry and the substances and materials developed to manage sweat, as well as breathable fabric and textiles technologically designed to keep the body dry and odorless.
At the Bemis Center for Contemporary Arts in Omaha, Nebraska: This two-month residency will give De Quillacq the opportunity to experiment with various sculpting materials, techniques, and protocols and to test out various installation strategies.
---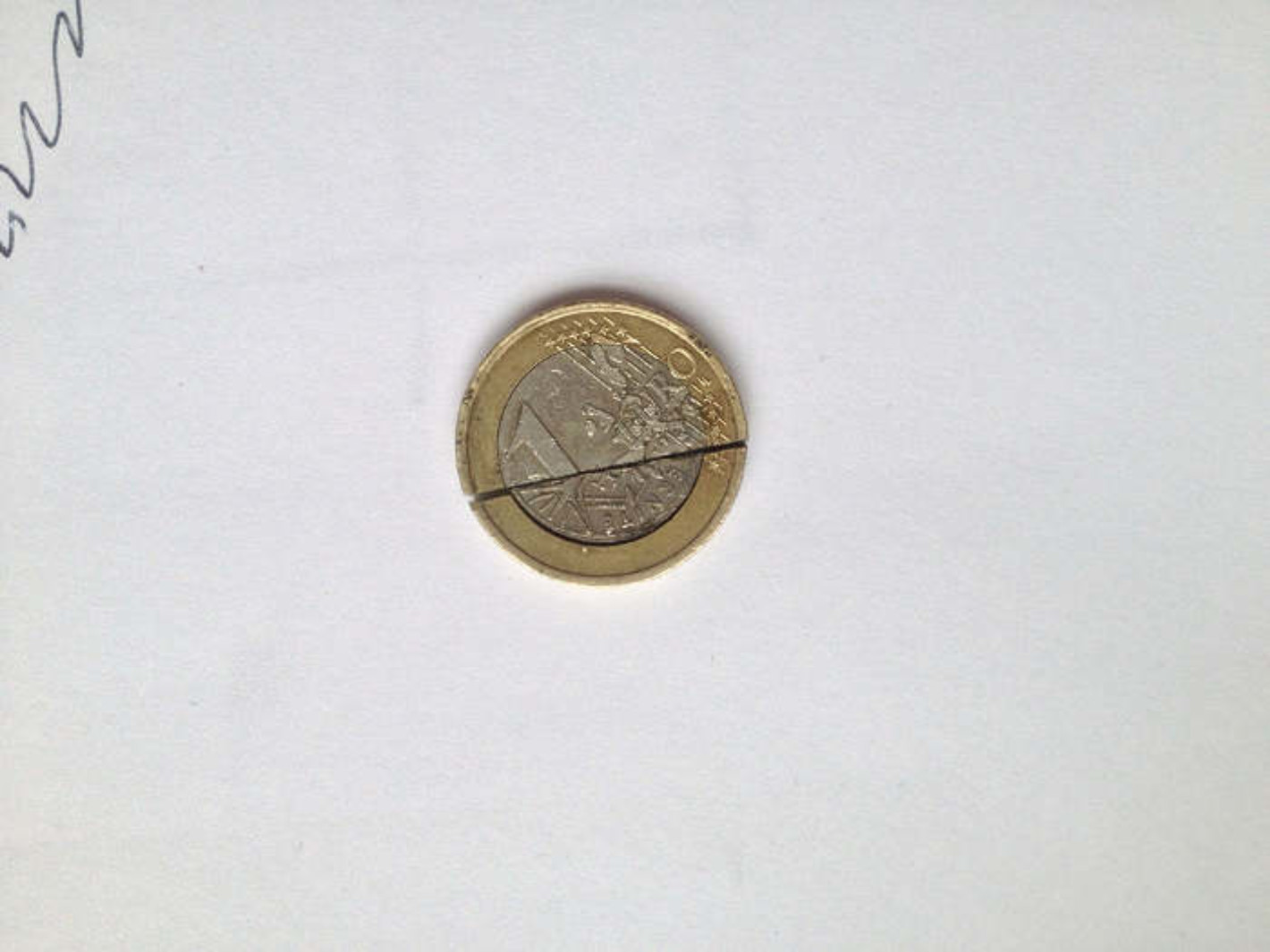 The Legal Loopholes Society
Eva Barto
In partnership with the SculptureCenter, NYC
30 April – 30 June 2021
The Legal Loopholes Society is a research project focused on the legal hindrances standing between France and the United States of America. Since 2017, different paths involving the impact of law upon the production of artwork in France, also with regard to the American context, have been explored. From the legal hindrances and dissociations of the two nations' contexts, The Legal Loopholes Society hopes to pursue fieldwork across the American territory to initiate the conception of a "Society", an autonomous system that stands "in-between" French and American legal rules. The ambiguous meaning carried by the term "legal loophole", a term which is highly neglected by attorneys, is a strategical starting point for the research. In that respect, various components that affect the functional principles of The Legal Loopholes Society are meant to be treated: its intellectual property issues, taxes and economic limitations, customs regulations, selling conditions, and philanthropist advantage. Therefore, the output of the research will be multifaceted. Although lacking human beings, the self-sufficient "Society" will gather material elements, such as series of objects conceived for that framework and projected beyond traditional contractual forms, and impose new economic conditions and copyright legislation. Works created out of this research could then be distanced from the common ways of collecting in the art market, reconsidering the greater notions of property and ownership. Hence, the outputs will not necessarily be produced for the context of an institution, the classic frame of an exhibition. Instead, their access and visibility will be questioned and they will be dedicated to the margins of the institution, its threshold, or put "in transit", in constant transportation between two borders. Created out of legal flaws, The Legal Loopholes Society will stand outside the two legal systems (FR and US). It will be constitutive of a porous territory, implying new rules, regulations, and conditions of existence for the artworks that tackle their financial systems, their modes of appearance, and their value systems.
The base for this research comes from another context — the social conditions of artists in France, particularly the artist's rights and claims. The artist has no status in France and is deprived of unemployment insurance. In short, the artist is not considered a worker. Faced with the lack of specific laws and governmental issues, the collective La Buse (that Barto initiated in France in 2018) works to elaborate an alternative system that proposes a special status for artistic workers and highlights the power issues of the art world. La Buse, among other collectives, initiated the movement Art in Strike, which is currently converging with the national general strike. This important social struggle is inspired by the action of the American collective WAGE (Working Artist and The Greater Economy), which Barto hopes to visit during her residency. The need to be active in formulating alternative conditions and working towards new laws and rights for artistic workers is certainly The Legal Loopholes Society's point of departure for this research.
Field experience and theoretical research will feed the overall process of The Legal Loopholes Society. In order to build a solid working base, in addition to active library research, a lawyer specializing in intellectual property will support the two month residency. The fieldwork for this research will consist of visiting legal institutions and offices, including the Services of American Customs and areas that claim their own regulations, such as a series of Tax-Free Zones in New York. These spaces are areas where emblematical elements (aesthetics of control, languages of power, judicial terminologies, etc.), can be recorded, used and distorted to help jumpstart the project. Finally, since Barto's practice always emerges from the study of a specific context, SculptureCenter will provide a strong framework to analyze and imagine the diverse forms that the American system can potentially take. There will be various interviews with the board of the institution, studies of the history of the building and a review of its fundraising strategies.
---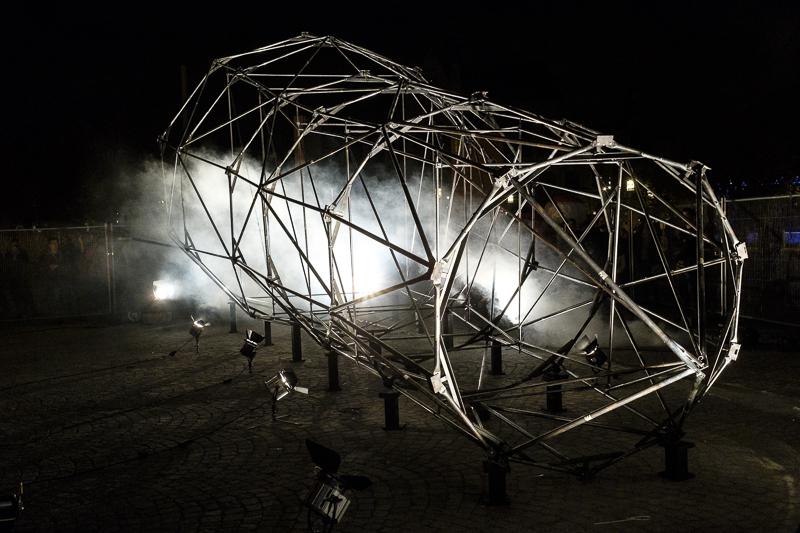 Four Corners
Théodora Barat
In partnership with Mayeur Projects, Las Vegas, NM
April 1-June 1, 2021
Four Corners is a project consisting of photographs, video and installations that tackles the impact of research into atomic energy on the Four Corners area (formed by Utah, Arizona, Colorado and New Mexico) and how the Second World War and the Cold War contributed to the growth of the nuclear industry and its militaristic and scientific expansion.
This project is in a sense a corollary to Learning from New Jersey, in which the geographic area was examined as the proving ground for modernity. This earlier project opened up a documentary approach in Barat's work that she is now keen to apply as a creative methodology. Four Corners takes an account told during the filming of Pay-Less Monument (the film element of Learning from New Jersey) as its starting point. An army veteran of the U.S.A. evoked a nuclear accident that occurred on a military base in New Jersey. The resulting contaminated soil was stored in an abandoned salt mine in Utah. Barat immediately wanted to know more about this accident. Considering New Jersey a ground of modernity, she wondered if Utah could be its dumping ground. Then, she did some research on the nuclear presence in Utah and realized that this "dumping zone" extended into the three other states of the Four Corners area. Although heavily contaminated, New Mexico presents a historic site connected to the Manhattan program, a nuclear weapons project that began during the Second World War. On the other hand, Utah, Colorado and Arizona seem to bear only the collateral damage. The sequence of events she has uncovered so far seems to offer a particularly promising path.
Travelling to the area will allow Barat to check her theories and to give the project a tangible form. This two month residency with the Mayeur Projects in Las Vegas (New Mexico) will offer her an environment that is exceptionally well-suited to the pursuit of her research. The gallery will then host the end of residency exhibition. Four Corners will also be included in EXTRACTION: Art on the Edge of the Abyss, a program launched by Edwin Dobb and Peter Rutledge Koch that examines artistic responses to the Anthropocene. This ongoing series of works began in 2018 and will be completed in the summer of 2021. During the intervening period, she will submit several articles reflecting the different stages of her project and hold a screening of her film Pay-Less Monument. Lastly, the residency and grant will allow her to complete the preliminary work required for a documentary film that is adjacent to the projects' photographs, videos, and installations. The whole project is part of the practice-based PhD that she started this year with the RADIAN doctoral program.