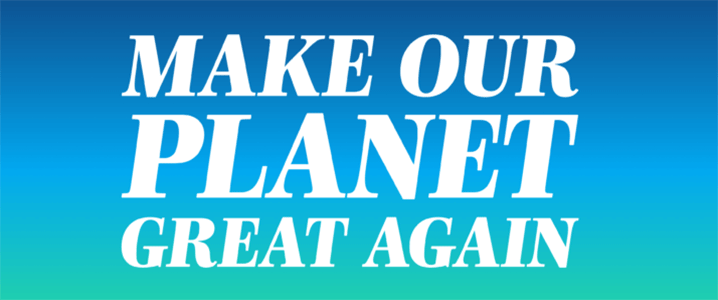 The "Make Our Planet Great Again Initiative" was launched by the President of France Emmanuel Macron in June 2017 to reinforce the international engagements of the 2015 Paris Agreement on Climate Change. The French government then opened a call to non-resident researchers who would like to develop top-level research projects in France, together with French partners, to address climate change.
In support of the Make Our Planet Great Again Initiative, the Embassy of France and the FACE Foundation offered additional Thomas Jefferson Fund grants for research projects related to:
1 – Earth System Science
Knowledge and monitoring of the physical, chemical, biological, ecological and social mechanisms that underpin global and regional environmental changes are needed. They include an understanding of how these mechanisms have interacted in the past and how they are likely to evolve in the future as well as scientific assessments that are relevant to diverse contexts ranging from global to local scale.
Topics include:
— Enhanced observation of the Earth System and attribution of environmental and climate changes, including anthropogenic changes.
— Further understanding of processes, interaction scales, risks and thresholds.
— Improvement of modeling activities of complex Earth systems, data assimilation and predictability.
— Exploring future scenarios.
2 – Climate Change and Sustainability
Critical knowledge gaps exist in ways of addressing sustainable development challenges in the context of global and climate changes. This includes meeting basic needs for a growing human population in a stressed ecosystem and how societies may address global environmental and sustainability challenges. These transformative changes are many-sided; they are related to human health and well-being, demography, economics strategies and their associations with sustainable production and consumption, urbanization, new technologies and processes, energy and governance for global sustainability in particular but not only under climate change induced stress.
Topics include:
— Meeting basic needs and overcoming inequalities.
— Governing and managing sustainable development locally and globally.
— Managing growth, synergies and trade-offs.
— Exploring, understanding and evaluating transformation pathways and life cycle issues.
— Developing, implementing and promoting sustainable technologies.
— Development of recycling technologies and of green and recyclable materials.
— Understanding and evaluating global health challenges and managing health risks and equities of environmental and climate change.
3 – Energy Transition
The transition from fossil fuels towards innovative zero carbon energy sources, associated to carbon sequestration and usage strategies, appear as the current solutions to diminish the Global Greenhouse Gas Emissions. Efficient and affordable energy storage capacities have to be made available at the right time and the right place through smart management systems. Overall, the concepts associated to the flexibility of population/economic needs and consumption habits should be put in the perspective of an accelerated energy transition.
Topics include:
— Emerging innovative concepts and technologies for massive energy production, storage and distribution.
— Energy efficiency.
— Economically, environmentally and socially viable production, and bioproduction of bio-sourced raw materials.
— Systemic approach of energy/economy/material problematics and prospective scenario analysis.
---
Contact
French Embassy in the U.S.
Higher Education Department
thomasjeffersonfund@frenchculture.org