2020 FRENCH VOICES GRAND PRIZE IN FICTION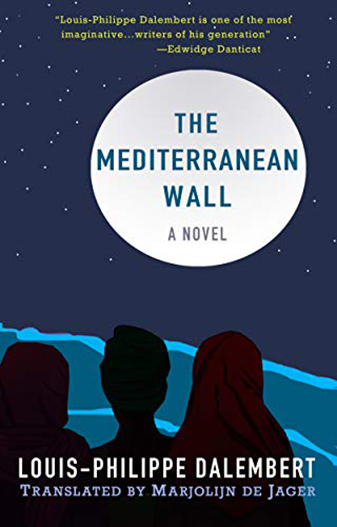 Louis-Philippe Dalembert
THE MEDITERRANEAN WALL
Tr. by Marjolijn de Jager, Schaffner Press, Inc.
(Mur Méditerrannée, Sabine Wespieser)
A starkly realistic and haunting contemporary novel in which three young women refugees from different parts of Africa and the Middle East are thrown together in their attempt to escape the ravages of war, famine and poverty to find a new home in Europe. Despite their disparate backgrounds, ethnicity, class, and religions, they create a bond in order to survive the harrowing trip by boat–a ramshackle fishing trawler–across the Mediterranean to freedom and an uncertain future. Dalembert's novel tackles a delicate subject without falling into clichés on immigration or presenting the issue as a black and white dichotomy. He furnishes a well-documented novel and gives a human and modern dimension to a collective tragedy, and uses a unique storytelling style that alternates between the conventional and an original spoken form.
---
2020 FRENCH VOICES GRAND PRIZE IN NONFICTION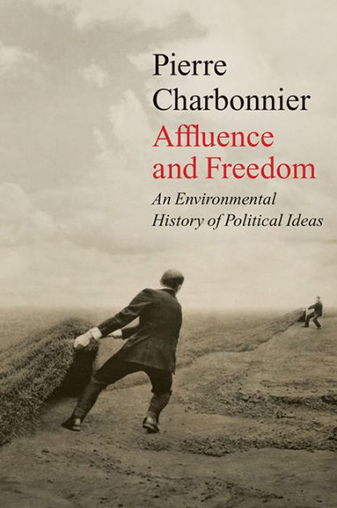 Pierre Charbonnier
AFFLUENCE AND FREEDOM
Tr. by Andrew Brown, Polity Books
(Abondance et liberté, La Découverte)
In this pioneering genealogy of Western philosophical thought,Pierre Charbonnier charts the development of the concepts of affluence and liberty, and considers them in conjunction with the past and present-day realities of climate change, biodiversity loss and ecological instability. Abundance and liberty were once the incentives offered by 19th century industrialists disseminating a social imaginary of 'the good life', but it is becoming apparent that they can no longer be sought in the same places. Retracing the relation between capitalism, economic growth and "nature", Charbonnier takes us from a moment when "emancipation from nature" was considered sine qua non, to our contemporary period when infinite economic growth finds its limits in ecological disaster. In this seminal work, Charbonnier poses challenging questions to the readers: how are we to configure a historical and humanist response to environmental collapse? Can we reorient the idea of freedom towards a new ethos of sufficiency and global justice? This uniquely interdisciplinary project is a book for our times.
---
2020 FRENCH VOICES AWARDS
Pascal Quignard
[LA REPONSE A LORD CHANDOS] 
Tr. Stéphanie Boulard and Timothy Lavenz, Seeking an American Publisher
(La réponse à Lord Chandos, Éditions Galilée)
In an imagined response to Hofmannstal's 1901 "Lord Chandos Letter", Quignard mirrors the direct and "interminable" style of the original, as well as its language and citations, yet offers an opposing view of life in language. He counters the idea that silence lies outside or before language and rejects Chandos's renunciation of literature. He makes a plea instead for literature as that which "puts language to silence" to make the cry of the soul heard. This detailed and compelling vision of the capability of the written word condenses Quignard's poetics and offers a wellspring of themes to which he insistently returns in later works. Quignard's fluid prose is exceptional and deserving of international recognition. 
For more information about this title, you may also contact Timothy Lavenz and Stéphanie Boulard.
---
Gwenola Ricordeau
[POUR ELLES TOUTES: FEMMES CONTRE LA PRISON]
Tr. by Emma Ramadan and Thomas Roberge, Verso Books forthcoming in Spring 2022,
Gwenola Ricordeau
(Pour elles toutes : Femmes contre la prison, Éditions Lux)
Feminist struggles and struggles for the abolition of the penal system and prison are often presented as antagonistic. The purpose of this book is to untie this knot by exploring the forms of protection that women can (or cannot) expect from the penal system and highlighting the ways in which prison affects women's lives, whether they are incarcerated or have loved ones in prison. Does the penal system protect women? What does it do to the women who face it? Why should feminists oppose jails? Drawing on examples from across Europe and North America, scholar and activist Gwenola Ricordeau presents a well-documented argument that feminism must take up prison abolition, and that anti-incarceration activism will likewise get nowhere without attending to the needs and struggles of women. Ricordeau's narration is both intelligent and fluid as she presents a lesser-known angle on intersectional feminism.
---
Elsa Devienne
THE SAND RUSH: AN ENVIRONMENTAL HISTORY OF LOS ANGELES' BEACHES
Tr. by Troy Tice, Oxford University Press, March 2022
(La Ruée vers le sable, Éditions de la Sorbonne)
Whereas the history of Los Angeles' urban development usually centers on its infamous landscape of sprawling inland suburbs, Devienne's book boldly shifts the focus to the city's hidden edges—the Pacific coastline—and proposes a radical re-reading of the city's growth and relationship to the environment. Using a wide range of data, from engineering reports to popular literature, The Sand Rush recounts the formidable beach modernization campaign that transformed Los Angeles into one of the world's greatest coastal metropolises. The Sand Rush not only uncovers how the Los Angeles beaches were constructed, but also how modernizing impulses conspired to exclude certain groups from the city's largest public space. It also clarifies the role of coastal spaces in postwar metropolitan economies and the rise of a modern environmental consciousness. Devienne's work calls into question the validity of large-scale U.S. infrastructure projects in a clear and readable prose that should appeal to American readers.
---
Richard Rechtman
LIVING IN DEATH: GENOCIDE AND ITS FUNCTIONARIES
Tr. by Lindsay Turner, Fordham University Press, 2021
(La vie ordinaire des génocidaires, CNRS Editions)
When we speak of mass killers, we may speak of radicalized ideologues, mediocrities who only obey orders, or bloodthirsty monsters. Who are these men who kill on a mass scale? Where is their conscience? Don't they feel horror or compassion? According to writer-psychiatrist-anthropologist Rechtman, it is not ideologies that kill, but people. This book descends into the ordinary life of people who execute hundreds every day, the same way others go to the office. Bringing philosophical sophistication to the ordinary, the book constitutes an anthology of mass killers. Rechtman's book has received high praise from readers and scholars alike for its compelling perspective and originality.
---
Barbara Stiegler
[ « IL FAUT S'ADAPTER : SUR UN NOUVEL IMPERATIF POLITIQUE] 
Tr. by Adam Hocker, Fordham University Press, December 2021
(« Il faut s'adapter » : Sur un nouvel impératif politique, Éditions Gallimard)
Stiegler's book reorients Foucault's genealogy of neoliberalism by emphasizing the Darwinian (or Spenserian) rhetoric of adaptation as it arose in the Lippmann-Dewey debates. It forms a critique of the neoliberal imperative to "adapt," and has served as a key text in resistance to reforms. According to philosopher and academic Perry Zurn: "This book is cleanly and compellingly written, deeply researched, crisply conceived, and flawlessly executed. It offers an intriguing new genealogy for the development of neoliberalism". Stiegler's work covers a well-trodden subject from a new and fascinating approach, and its clear prose is accessible to scholars and non-specialists alike.
Lutz Bassman
BLACK VILLAGE
Tr. by Jeffrey Zuckerman, Open Letter, December 2021
(Black Village, Verdier)
Brought together by fate, a trio of characters stumble through a world of absolute darkness, with no way to tell where they're going, what lies ahead, or how much longer they might endure this fate. The only faint glow they manage to obtain comes from the low-grade fuel produced by the skin of the hand of one of the three characters. Their world seems to exist in the wake of 'the disaster', an apocalypse resulting from a war between capitalists and communists. To pass the time and give themselves some sense of continuity, they tell stories. Bassmann (aka Antoine Volodine) makes the 30 snippet stories absorbing and creates a reading experience that gets under the skin. The post-exotic novel with overtones of Beckett, Stanislaw Lem, Pynchon, and Tarkovsky's Stalker, conveys a strong and affecting mood.
---
Grégoire Chamayou
THE UNGOVERNABLE SOCIETY: A GENEALOGY OF AUTHORITARIAN LIBERALISM
Tr. by Andrew Brown, Polity Press, 2021
(La Société ingouvernable, La Fabrique)
This original account sketches a genealogy of the opposition between market and state operations and institutions against a background of increasing societal unrest. Grégoire Chamayou develops an understanding of "authoritarian liberalism" through discourses and practices of "private governance". With material emanating primarily from those at the top of the corporate world–theorists of management and the economy, industry publications, speeches of CEOs–and to a lesser extent from those at the bottom–workers, militants, activists–the philosopher argues that a new form of liberalism emerged from the 1950s to the 1980s, which combined features of political authoritarianism with the promotion of a free market. This far-ranging study makes the case for the importance of studying the private sector in order to properly understand the nature of political reality and addresses many of the fears held today by many regarding our global political future.
---
Laurent de Stutter
AFTER LAW
Tr. by Barnaby Norman, Polity Press, 2020
(Après la loi, PUF/Humensis)
In this bold and original philosophical reflection on the distinction between Law and Rights, Laurent De Stutter interrogates the norm of legality across a wide range of contexts (Ancient Greek, Babylonian, Arab, Chinese, Indian, Egyptian, and Hebraic) and offers insightful reflections on the concepts. As the hold of Western law on global conceptions of the norm is ebbing, De Stutter develops an argument which focuses on what happens 'after the law'. This pleasant read with a snapshot quality to it stresses the vital necessity of the Law to protect the (human) "being" in both Western and Eastern cultures and praises it as a remedy against chaos and the dissolution of the being. Bringing together law, history and literature in an engaging and erudite way, the distinctions and categories made by the author prove to be wonderful food for thought.
---
Pierre Ducrozet
[L'INVENTION DES CORPS] 
Tr. by Margaret Morrison, Seeking an American Publisher
(L'Invention des corps, Actes Sud)
This ambitious novel follows Álvaro, a young Mexican teacher and hacker, on the run from an Army massacre of his students. He crosses into the US illegally and falls into the hands of a Silicon Valley billionaire determined to cheat death by performing transhuman experiments. Eventually fleeing with a brilliant geneticist, they discover a new community, and a new way of being themselves. The road trip narrative deals with many current topics which are crucial for our human future. It takes on a number of important contemporary concerns: artificial intelligence, the use and abuse of the natural order, and the question of elites who may or may not be secretly ruling the world. L'Invention des corps combines some fantastic writing and gripping plots. It received the Prix de Flore in 2017.
For more information about this title, you may also contact Nathalie Alliel at Actes Sud.
---
Nathalie Léger
THE WHITE DRESS
Tr. by Natasha Lehrer, Dorothy, A Publishing Project
(La Robe blanche, P.O.L)
In 2008, the Italian performance artist Pippa Bacca hitchhiked around Europe in a white wedding dress as a messenger of peace. In April of that year, she was found murdered in Turkey. Nathalie Léger writes succinctly and effectively about the importance of the gesture, and the mythology of the white dress. She refers to Ms. Bacca, but also to other women performance artists, to the public's reaction to their performances and to their reception by critics and journalists. While she expresses sympathy for the artists' endeavours, she also wonders, at times, about their naiveté. Léger is succinct and sensitive to the meaning of the performances she recalls, connecting them to the history of the reception of women who make artistic and social gestures. This touching work speaks to particular events within European culture all while addressing the broader social movement that reflects women's consciousness.
---
Contact
Book Department
Cultural Services of the French Embassy
972livre@gmail.com