L'ECONOMIE A L'EPREUVE DE L'ART. ART ET CAPITALISME DANS LES ANNEES 1960
by Sophie Cras (Les Presses du réel)
[The Artist as Economist: Art and Capitalism in the 1960s]
Translator: Malcolm DeBevoise
American publisher: Yale University Press
Through the lens of artworks that take economics as a theme, Cras demonstrates that artist from Yves Klein, Andy Warhol and Larry Rivers to Dennis Oppenheim and Marcel Broodthaers were acute observers of the economy of their times and bore witness to the evolution of capitalism during the 1960s. During the Cold War, capitalism was not only a set of economic, institutional and political choices, but also a combination of sometimes complementary, sometimes conflicting representations. It had a visual dimension that artists from diverse geographic, ideological and aesthetic backgrounds seized, transformed, and created. In doing so, they contributed to the critique, reshaping and at times reinforcing the "spirit of capitalism."
"This attention to the knowing intersection of art and commerce makes for a valuable sideline to conventional art history."
–Mark Polizzotti
---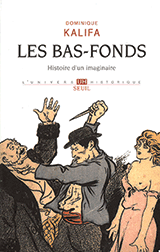 LES BAS-FONDS
by Dominique Kalifa (Seuil)
[Vice, Crime and Poverty: How the Western Imagination Invented the Underworld]
Translator: Susan Emanuel
American publisher: Columbia University Press
Paupers, beggars, prostitutes, criminals, madmen, and convicts—part reality and part fantasy, they populate the underworld, the dark inverse of our everyday world. Skulking in the mirror we hold up to our society, they are our counterparts and our doubles, simultaneously repelling us and offering the promise of escape. Dedicated to the exploration of this imaginary world, Vice, Crime and Poverty evokes the construction of a world that reflects our fears as well as our desires and has fascinated us without cease.
"Misery, vice and crime: the three horsemen of the social apocalypse."
–Antoine de Baecque, Le Monde
*This book was selected for an award in 2016, but is now entering the French Voices collection with a brand-new translation.
---
LE GARCON
by Marcus Malte (Zulma)
[The Boy]
Translators: Emma Ramadan, Tom Roberge
American publisher: Restless Books
The titular character has no name and does not speak. His knowledge of the world is limited to his mother and the countryside around the cabin of his childhood. After his mother dies, the boy encounters people beyond his remote hamlet for the first time, and through them he begins to glimpse what constitutes "the stuff of life": an ogre introduces him to the history of France, and he soon discovers the arts and bourgeous society, eventually moving to Paris. When war comes, his world is once again torn apart, and he must learn again how to exist in society and live beyond simple survival.
'Bildungsroman' for some, 'epic saga' or 'historical account' for others, Garçon traces, in sumptuous language, the disconcerting story of a wild child who, at the age of 14, is abruptly brought into the world and the company of men."
–Elena Scappaticci, Le Figaro
LA PART INCONSTRUCTIBLE DE LA TERRE : CRITIQUE DU GEOCONSTRUCTIVISME
by Frédéric Neyrat (Seuil)
[The Unconstructable Earth: An Ecology of Separation]
Translator: Drew S. Burk
American publisher: Fordham University Press
Frédéric Neyrat brings us to the heart of constructivist thought that today dominates the social sciences. He calls into question the divide between nature and culture, critiquing the myth of nondistinction between nature and all-powerful technology and proposing a new philosophy of nature and the Earth: an ecology of separation that acknowledges the wild, subtractive capacity of nature, noting what in nature is unsubstitutable and recognizing Earth in its singularity.
"The concept of ecoconstructivism offers readers a way to step back from the downward spiral of some current ecological thought."
–Leila Chakroun and Clémence Guimont, Cairn
SCIENCES DE LA VIE
by Joy Sorman (Seuil)
[TBA]
Translator: Lara Vergnaud
American publisher: actively seeking an American publisher.
For further information on this title, please contact jdorny@seuil.com.
Ninon Moise is the final link in a cursed family chain: since the Middle Ages, the female members of her family have been afflicted with a bizarre and incurable illness, which manifests itself differently each generation. Now, seventeen-year-old Ninon, captivated as a child by tales of rare maladies, seeks to break the cycle. She turns to science to heal her ailment and take charge of her own destiny. With a distinctive style that has been dubbed "docu-fiction," Sorman blends history and fiction to explore the evolution—and changing perception—of disease. This odyssey through the strangest annals of medical history, led by a series of vivid heroines, questions our relationship to the body, notions of transmission, and the female condition.
"The elegant simplicity of the sentences, the fluidity of the book as a whole, the acuity and the imagination of Sorman's perspective brings a singular charm to this text, all the way to the end."
–Michel Abescat, Télérama
ENRICHISSEMENT
by Luc Boltanski and Esquerre Arnaud (Gallimard)
[TBA]
Translator: Catherine Porter
American publisher: Polity
This book sees one of France's foremost sociologists in collaboration with a rising star in the field. Together, they develop a groundbreaking new theory of how modern capitalism has been transformed by culture. Drawing on a wide range of cultural forms—the arts, the antiques trade, museums, heritage sites, the luxury goods industry and tourism—Boltanski and Esquerre show that value is always created the same way: through exploitation of the past. The authors call this altered economic landscape an "economy of enrichment," one based less on the production of new things than on enriching things that already exist, primarily benefitting the very wealthy, who turn these things into a source of further enrichment. Boltanski and Esquerre develop this idea to show that any analysis of economic transformation is inseparable from an analysis of the way that value is attributed to commodities.
"A capital book…Enrichissement does job excellent, to say the least, of laying out some of the basic principles at work in the economic paradigm we are living in today."
–French Voices committee [Roger Celestin]
MEDIARCHIE
by Yves Citton (Seuil)
[TBA]
Translator: Andrew Brown
American publisher: Polity
In this ambitious book, renowned theorist Yves Citton brings the many elements of media theory together to provide a radical new perspective on how politics operates today. Citton's distinctive argument is that political theory has overlooked the fact that power is always, in one way or another, mediated. In the synchronized actions of publics and crowds, Citton shows that the way people act is coordinated or connected, and that power does not exist separate from this process, but rather arises directly from it: power is exercised by capturing our attention in the midst of a cacophonous media environment, and in order to regain individual control, we must resist habitual impulses in favor of delay, becoming aware of media hierarchies in order to bypass them.
"More than a simple critique of the media, [Citton] develops an archeology that seeks to reopen the political imagination to transform the rules."
–Jean-Marie Durand, Les Inrockuptibles
LE DON DES PHILOSOPHES : REPENSER LA RECIPROCITE
by Marcel Hénaff (Seuil)
[TBA]
Translator: Jean-Louis Morhange
American publisher: Fordham University Press
For philosophers, every form of reciprocity is tainted by commercial exchange. In recent decades, thinkers such as Derrida, Levinas, Henry, Marion, Ricoeur, Lefort, and Descombes have explicitly examined the gift, often as a phenomenological reflection on the world as "given" but intrinsically bound to disinterestedness. An anthropologist as well as a philosopher, Hénaff worries that philosophy has failed to distinguish the various types of giving. In this context, he shows that reciprocity, rather than disinterestedness, is central to ceremonial giving and alliance, in which the social bond unique to humans becomes a political one. From a social analysis of gift practices, Hénaff reevaluates what the philosophical tradition concerning the gift has to offer us.
"[Le Don des philosophes] is a beautiful bringing-together of the canonical voices in anthropology and philosophy around the questions of giving and also to a certain extent apology."
–French Voices Committee
TOUTES LES FAMILLES HEUREUSES
by Hervé Le Tellier (JC Lattès)
[All Happy Families]
Translator: Adriana Hunter
American publisher: Other Press
Hervé Le Tellier did not consider himself to have been an unhappy child–he was not beaten, deprived, or abused. Yet he understood from a young age that something was wrong. He wanted to leave, and in fact did leave. Sometimes, children have only the option of escaping, and owe their greater love of life to that escape. Having reached a certain emotional distance at sixty years old, and with his father and stepfather dead and his mother suffering from late-stage Alzheimer's disease, Le Tellier finally felt able to write the story of his family. Abandoned early by his father and raised in part by his grandparents, he was profoundly affected by his relationship with his mother, a troubled woman with damaging views on love. In this perceptive, deeply personal account, Le Tellier attempts to look back on trying times in his life without anger or regret, and even with a touch of humor.
"You leave this reading touched and moved, with the desire to reflect on laughter and sadness, on the possibilities to get out of tough situations, on the human being's capacity to bounce back, to develop despite their parents. And the desire to love their loved ones even more."
–Ouest France
EDOUARD GLISSANT, PHILOSOPHE : HERACLITE, HELGEL ET LE TOUT MONDE
by Alexandre Leupin (Hermann)
[TBA]
Translator: Andrew Brown
American publisher: SUNY Press
This book is based on the reflection that Edouard Glissant diligently and persistently pursued an entirely original and groundbreaking critical approach in regard to European philosophy. "Another" Glissant appears, present from the very beginning of his oeuvre until its end; this one subverts the philosophical tradition in order to extract wholly unheard-of ideas from it: Whole-World, Relation, and Creolization. The coherence of Glissant's thought then manifests itself, contradicting the stereotype of a work deemed "obscure" or "difficult." Glissant must be read not only as a great writer, but also as one who radically renewed old questions of philosophy through a medium practiced by Heraclitus and banished by Plato: poetry.
"At the heart of his book, as if he is unwinding Ariadne's thread, Leupin shows with precision that Glissant's "unclassifiable" work, in dialogue with Western thought, overtakes philosophy."
–Aliocha Wald Lasowski, Art press
*This book was selected for an award in 2017, but is now entering the French Voices collection with a brand-new translation.
L'AFRIQUE ET SES FANTOMES : ECRIRE L'APRES
by Seloua Luste Boulbina (Présence Africaine Éditions)
[Kafka's Monkey and Other Phantoms of Africa]
Translator: Lara Hengehold
American publisher: Indiana University Press
Though many of France's former colonies achieved independence more than half a century ago, the concept of "colony" and parties affected by colonialism remain problematic in French culture today. Seloua Luste Boulbina, an Algerian-French philosopher and political theorist, draws on Foucault, Rancière, and Deleuze as well as Fanon, Said, Spivak, and Glissant to ask how philosophy can ensure that the embodied subjectivity of formerly colonized peoples is represented in the human sciences. Moving between academic and personal voices, Kafka's Monkey shows how decolonization silently leaves emotional scars that can only be interpreted if literature, history, anthropology, and psychiatry are themselves transformed.
"Seloua Luste Boulbina's analyses are seething with insight, brilliant in their tone, and way way beyond what 'postcolonial studies' imagines it needs to do. She assaults the reader with a series of pricks to the skin and conscience that are too obvious and evident and unseen and unnoticed until she shows them to us."
–Laura Ann Stoler, author of Duress: Imperial Durabilities in Our Times
BAKHITA
by Véronique Olmi (Albin Michel)
[Bakhita: A Novel of the Saint of Sudan]
Translator: Adriana Hunter
American Publisher: Other Press
She recalls little of her childhood, not even her own name. She was barely seven years old when she was snatched by slave-raiders from her village in the Darfur region of Southern Sudan. Sold and resold along the slave trade routes, Bakhita endures years of unspeakable abuse and terror. At age thirteen, at last, her life takes a different turn when the Italian consul in Khartoum purchases her. A few years later, as chaos engulfs the capital, the consul returns to Italy, taking Bakhita with him. In this new land, another long and arduous journey begins–one that leads her onto a spiritual path for which she is still revered today. In Italy, Bakhita may no longer be chained and battered but she is not yet free. She is still at the mercy of her patrons' whims, and subjected to a new form of violence: as an African woman, she provokes fear and repulsion everywhere she goes. It takes a trial in Venice for Bakhita to officially gain freedom, and she eventually enters the order of the Canossian Sisters, where she devotes her life to poor and orphaned children throughout the turmoil of two World Wars and Mussolini's fascist reign.
"Intimate in tone, epic in scope, Bakhita tells the moving story of one woman's trajectory from bondage to faith and healing."
–Mitchell James Kaplan, author of By Fire, By Water
CONFESSIONS D'UN HOMOSEXUEL A EMILE ZOLA
by Michael Rosenfeld (Nouvelles Éditions Place)
[TBA]
Translators: William A. Peniston and Nancy Erber
American publisher: Harrington Park Press
Following the discovery of one of the original letters from an anonymous Italian aristocrat to Emile Zola, Confessions d'un homosexuel à Émile Zola is the first unexpurgated edition of this famous autobiography, originally entitled Le Roman d'un inverti and Suite du Roman d'un inverti. The French edition contains original analytical essays by two leading scholars (Michael Rosenfeld and Clive Thomson), which will be adapted for the English-language edition, along with the original analysis by the doctor who first published his work in 1896 with revisions in 1910 and 1930.
"[Confessions d'un homosexuel à Émile Zola] is remarkable and admirable for many reasons… [the author's] French, stylistically, is beautiful—rich, self-effacing, stunning—revealing a lost world that will be of great interest to modern readers as literature."
–French Voices Committee
AFROTOPIA
by Felwine Sarr (Éditions Philippe Rey)
[TBA]
Translators: Drew Burk and Sarah Jones-Boardman
American publisher: University of Minnesota Press
Africa's status as humanity's older sister requires that it not participate in the irresponsible race that endangers social and natural conditions: the competition between nations to see who can accumulate the most riches. Africa's only urgency is to be at the height of its potential. In thirty-five years, the population of Africa will represent a quarter of the world's, and a demographic weight and vitality will tip the social, economic, and cultural scales. To embrace this locomotive force, Africa must build a civilization that is more conscious, more concerned with the equilibrium between different orders, the common good, and dignity. Afrotopia is an act of faith in this active utopia: an Africa that will help bring humanity to a new level.
"Facing a capitalist system that seems to have reached its limits, Felwine Sarr proposes that Africa finally appears as an alternative, rather than an eternal inferior."
–Catherine Calvet, Libération
OU EN SOMMES-NOUS ?
by Emmanuel Todd (Seuil)
[TBA]
Translator: Andrew Brown
American publisher: Polity
Emmanuel Todd's magnum opus, Où en sommes-nous ? offers a major reinterpretation of the history of humanity, from the emergence of Homo sapiens to the present. Drawing on his training as a historical demographer, Todd reads the history of humanity through the lens of the long-term dynamics of family systems and the way in which they intersect with religion and ideology. Ultimately, he argues that underlying family structures are the key to understanding history and social change. This enables him to shed new light on the great shifts and divergences that have emerged today, from the revolt of the silent majority that led to the rise of Trump and to Brexit, to Russia's return to the world stage under Putin and the recent political transformations across Europe.
"This is a book of big ideas presented in a straightforward and compelling way. It exhibits staggering fluency across many disciplines, and demands to be read in English."
–French Voices Committee
---
Contact
Book Department
Cultural Services of the French Embassy
972livre@gmail.com